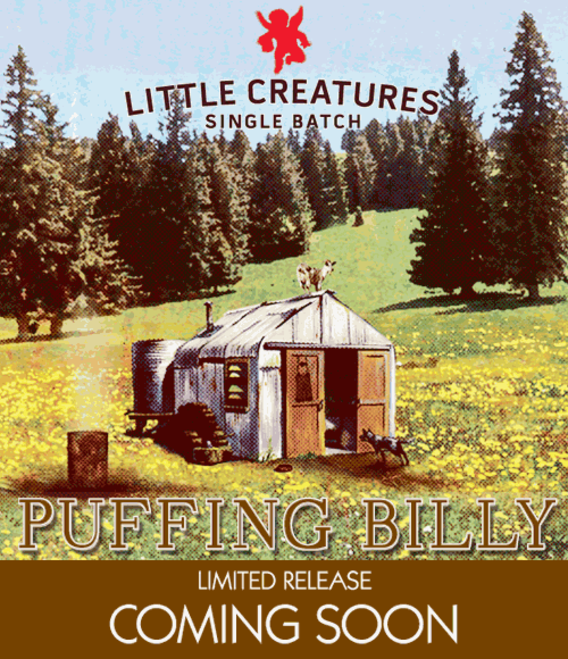 With train puns abounding, Little Creatures has released the details of their tenth Single Batch beer – Puffing Billy.
To make it special the whole team was challenged to an in-house homebrew competition to come up with some inspiration.
While there were plenty of ideas abounding, there was only one winner that made it to the bottling line – a Bock with a hint of smoked malt – after a few tweaks and more than a few taste tests.
Inspired by the Bock style – which encapsulates malty, dark Lagers – the beer reputedly has a stong, warming character with a distinct smokey twist.
With a hint of Beech wood-smoked malt added to the grist, the tasting notes point to a rich dark Lager with lasting, peat-like characters on the finish. And a nice dose of hops to stick with the Creatures style.
Try it at the brewers' shout on Monday October 29th from 4pm in Freo, 4.30pm at the Dining Hall in Melbourne's Fitzroy or from 3pm at White Rabbit Brewery in Healesville.
Puffing Billy – Bock Specifications:
Style: German StyleBock
ABV:6.5%
Malt Bill:Pilsner malt, Munich Malt, Melanoidin Malt (Super Munich), Caraaroma, Caramunich 3, Carafa Special 1 and Smoked Malt
Hops:Southern Saaz for bittering, Southern Hallertau and Czech Saaz late additions in the kettle and whirlpool.
IBUs:33IBU
Colour:46EBC
Ferment:as per standard LC Pilsner profile
Filtered:yes, although as coarsely as wecan.….
Bottle conditioned:no
Pasteurised?never
A word from the brewers.…
Our aim wasto Brew a rich,malty,sessionable Dark Lagerwith some added complexity;hence theuse of Smoked Malt. We didn't want bigaggressivesmokiness: the aim was to integrate the smoked character but retain balance–detectable rather thanprevalent–avoidingharsh phenolic acridity; justsmooth and with a perception of mild sweetnesson the palate finish.We've hit a Bitternesssomewhat higher than the style guidelines–but that'show we like it, with typical distinct hop character.…..This beer has had 5 weeks of cold storage to assist with the refinement.
The beer — in a nutshell:
Inspired by thetraditionalBock style, amalty dark lager brewedfor thespringmonthswhen it is still a littlebit cold, Puffing Billy is astrong, warming beerwith a distinct smokey twist.With an alcohol content closer to that ofdouble bock, at6.5% by volumeit remainssmooth andsessionable for its strength.The subtle hints of malt smoked with Beech wood, rounds out a balanced beer with lasting, subtle peat like characters on the finish.
What's with the name…?
Through the heavy accents of beer loving Bavarians, who took a great liking of the dark malty beer being brewed in the German town of Einbeck, the name of the town was mistaken as the German word for a Billy Goat – "ein bock". With our addition of smoked malt, we couldn't resist an ode to all those occasions where true meanings are lost in translation.…