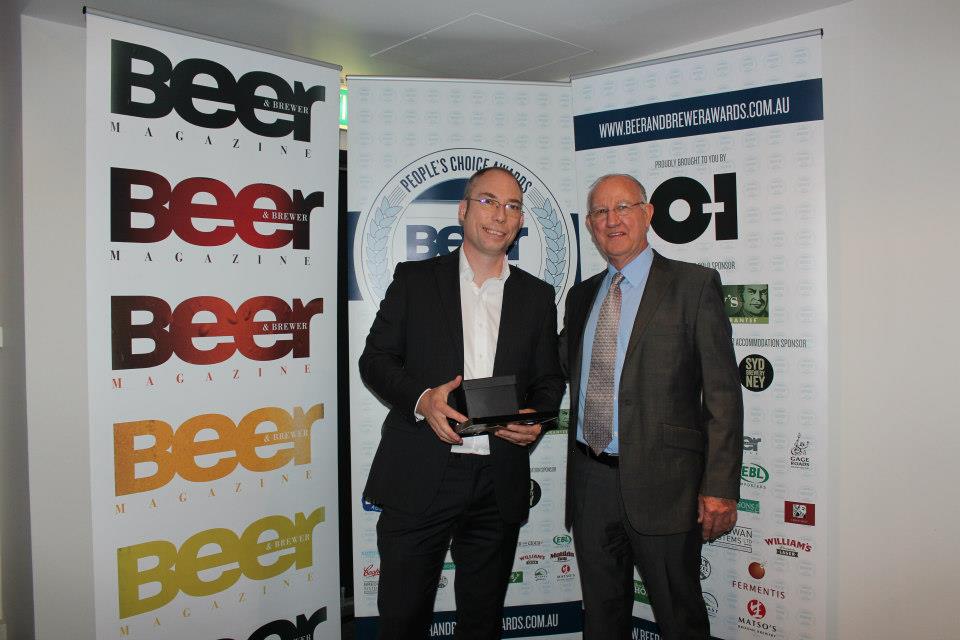 The Beer & Brewer Awards were presented for another year with the best of the Australian, New Zealand and International beer industry lauded at an awards presentation dinner at the Sebel Hotel in Surry Hills last night.
Celebrating everything from beers to brewers, beertenders to venues and online retailers to good old fashioned off-premise stores, the awards are a highlight on the beer industry calendar every year.
This year the major awards were even more hotly contested this year with Shawn Sherlock of Murray's Craft Brewing Co taking out the title of Brewer of the Year.
Fresh from a win at the Australian International Beer Awards, Will Irving, of Feral Brewing Co, took home Young Brewer of the Year.
In the other major awards, the Best Australian Beer of 2012 went to the much-loved Hop Hog by Feral Brewing Co and Best Beer Venue was snagged the very deserving Wheatsheaf Hotel (SA).
In the People's Choice category, the Australian Hotel came out on top, winning both the Best Beer Venue and the Best Beer (Australia) categories. Best Beer (Imported) went to Murphy's Irish Stout.
It was a great night, and with something like the equivalent of nine litres of beer per person donated by sponsors – including the never before drunk revamped Sail & Anchor range – a very good time was had by all the attendees, winners and sponsors.
A big thank you to everyone who made it possible and congratulations again to all the winners.
For more images of the night's celebrations see our Facebook page.
See below for the full list of winners.
BEER & BREWER AWARDS
Brewer of the Year
Shawn Sherlock (Murray's Craft Brewing Co, NSW)
Young Brewer of the Year
Will Irving (Feral Brewing Co, WA)
Brewer of the Year (NZ)
Luke Nicholas (Epic Brewing)
Beertender of the Year
Ross Terlick (Cowaramup Brewing Co, WA)
Best Beer (Australia)
Feral Hop Hog (WA)
Best Beer (Imported)
Rogue Brutal IPA (USA)
Best Beer (NZ)
Epic Armageddon IPA
Best Cider (Australia)
Matilda Bay Dirty Granny (Vic)
Best Cider (Imported)
Thatchers Green Goblin (UK)
Best Cider (NZ)
McCashin's Rochdale Traditional Cider
Best Beer Venue (Australia)
The Wheatsheaf Hotel (SA)
Best Beer List
Beer DeLuxe (Vic)
Best Specialty Beer Venue
Sail & Anchor Hotel (WA)
Best Microbrewery / Cellar Door
Mountain Goat Brewery (Vic)
Best Restaurant / Café
Redoak Boutique Beer Café (NSW)
Best Brew Bar / Pub
Little Creatures Brewing (WA)
Best Small Bar / Pub (<150 patrons)
Albion Alehouse (NSW)
Best Large Bar / Pub (>150 patrons)
The Wheatsheaf Hotel (SA)
Best Bottleshop (<300 beers)
Beer Cartel (NSW)
Best Bottleshop (>300 beers)
Plonk Beer Store (ACT)
Best Beer Event
Bitter & Twisted International Boutique Beer Festival (NSW)
Best Online Retailer
Dan Murphy's, www.danmurphys.com.au
Best eNewsletter
Oak Barrel (NSW), www.oakbarrel.com.au
Best Web Site
The Local Taphouse (Vic, NSW), www.thelocal.com.au
Best Homebrew Shop
The Brew Shop (NSW)
Best Homebrew Can Kit
Black Rock East India Pale Ale
Best Beer Ad
Malt Shovel (NSW) Mad Brewers Hoppy Hefe & Ginger Chops Ale
Best Beer Promotion
The Perfect Lager Project, Arvo Beer (NSW)
PEOPLE'S CHOICE
Best Beer (Australia)
The Australian Brewery (NSW) AB Pale Lager
Best Beer (Imported)
Murphy's (Ireland) Irish Stout
Best Beer Venue (Australia)
The Australian Brewery (NSW)
www.beerandbrewerawards.com.au