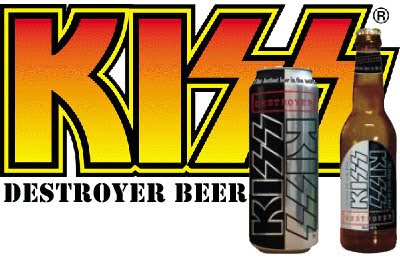 For diehard fans of beer and the band Kiss: your time has come. Brewed in Sweden, the missing piece in your Kiss fandom collection is Destroyer Beer. Yep, Kiss have released their own brew and rumour has it the kind folks at Allstates Liquor Wholesalers are bringing it to our shores. Unfortunately it is only available in Perth and Adelaide as yet, but we're sure there will be someone who can ship it elsewhere.
The Kiss website states that: "KISS Destroyer Beer is an easy-to-drink beer in the best German tradition! A careful brewing process creates its great head of foam, nice flavor, and a balanced bitterness, like an original Pils". It sounds rather inoffensive and at 4.7% ABV it should be pretty sessionable.
And as an added bonus, if your partner is keen on Kiss but not so keen on beer you can always try and find her a bottle of Zin Fire wine – "a bold and fruity California Zinfandel – the result of a cool, long growing season that promoted fantastic flavor and a rich, jammy aroma. A brazen blend of blackberry and pepper gives the wine a hard-rocking kick and spicy smooth finish". Unfortunately, there is no word as yet on whether that drop will be imported along with the brew.
Edit: Zin Fire should be available in Australia from Allstates in September.
It should be noted that forays into the alcohol industry by bands are nothing new. Sydney's Young Henrys has just rocked out some collaboration brews, Motorhead have their own beer, and those who frequent the wine section of their local bottlo on occasion may have noticed the sudden appearance of AC/DC-branded wine. With varietals named after the band's biggest hits they would look mighty fine in a memorabilia collection.