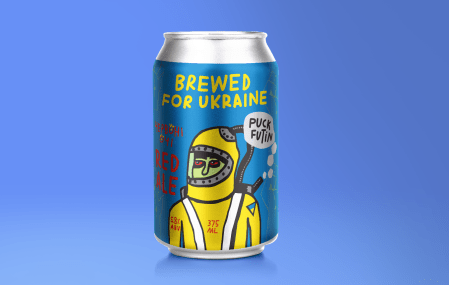 Australians have found a familiar way to show their support for the people of Ukraine as a beer named Puck Futin sold out before it was even been brewed.
Released in collaboration by Ukrainian brewery Pravda and South Australian producers Prancing Pony Brewery, Barossa Valley Brewing and Route 9 Distillery, proceeds from sales of the Puck Futin red ale are being donated to charities assisting with humanitarian aid in the Ukraine and for Ukrainian refugees arriving in Australia.
The beer, which comes after Pravda shared five of their recipes and labels to encourage the global brewing community to show solidarity with and raise funds for Ukraine, was brewed at Barossa Valley's brewery on March 30 and will be released by April 22.
Following "crazy" sales, where both Prancing Pony and beer retailer Beer Cartel sold out of their initial allocations, a second batch was to be brewed at Prancing Pony's brewery. Batch two pre-sales have now been exhausted also.
After pre-sales of the beer commenced on March 24, Beer Cartel's director Richard Kelsey, who is Puck Futin's exclusive distributor for NSW, ACT, VIC and QLD, told Beer & Brewer their allocation from batch one went in an hour.
"It went crazy," Richard told us. "When we were planning this I told Corinna (Steeb, Prancing Pony's co-founder) 'be ready, because this is going to sell out in no time'. But I was thinking perhaps overnight, not in an hour.
"Everyone loves a good beer and when you can mix it with a great cause at the same time it always goes really well.
"(The cause) is something that has resonated with Australians even though we're a long way from Europe. Globalisation means we feel connected to the Ukrainian people… and we want to find ways to help people in need. This fits perfectly."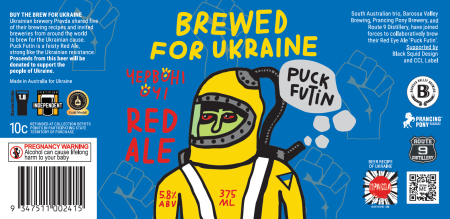 A direct connection to the people of Ukraine was the catalyst for the first Australia-based initiative to take up Pravda's Brew for Ukraine challenge.
Rob Watt, managing director of Route 9 Distillery, is married to a Ukrainian while Corinna and husband, and fellow Prancing Pony founder, Frank Samson migrated to Australia from Europe in the 1980s during Cold War times.
"My wife, Natalie, and her family are from Ukraine, and we are very connected to the Ukrainian community in Adelaide," Rob said in a statement. "We couldn't live with feeling helpless, as we watch the devastation being wreaked on this country.
"I approached Prancing Pony with this idea of brewing for Ukraine and, coincidentally, they were talking already about this to the brewing community. Within a day, we had Barossa Valley Brewing throwing themselves at the opportunity to brew with us, Black Squid Design reworking the labels, CCL Label helped us to print and Barossa Enterprises assisted with labour for packaging."
Corinna told Beer & Brewer what's happening in Ukraine reminds her of the experience of living through the decades-long geopolitical tensions between the west and Russia that began after the second World War.
"Frank and I lived through the Cold War and it was so scary. Could the (nuclear) button be pushed?
"Just recently we had a little earthquake in the Adelaide Hills. It was 7.26am and our bed rattled and Frank and I sat up simultaneously and said 'Putin has pressed the button'.
"That's how ingrained some of your earlier memories in life become when you live on the brink of war. It's happening again so we're doing what we can."
The red ale, which Pravda won gold with at the 2016 Brussels Beer Challenge, will be brewed to Pravda's specifications and Corinna said the respective brewers from Barossa and Prancing Pony would be communicating with Pravda's team to "do the beer justice". After seeing batch one's pre-sales go so well she said Frank made room in their brewing schedule to brew another batch of Puck Futin a few days after the first was brewed at Barossa Valley Brewery.
Puck Futin will be on tap at Barossa Valley Brewery, Prancing Pony Brewery in Totness, Prancing Pony's Pony on Rundle venue and other participating hotels and bars from the April 22.