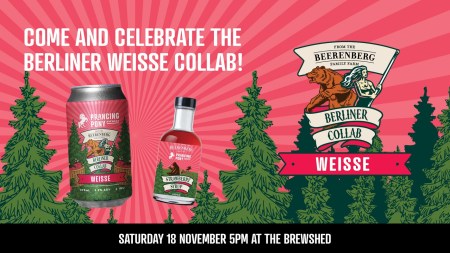 Prancing Pony Brewery are hosting a party on November 18 to celebrate the launch of their new Berliner Weisse in collaboration with fellow Adelaide Hills producer Beerenberg who have created a special strawberry syrup to complement the wheat beer.
Held at their Totness venue from 5pm, the launch party is a non-ticketed event but bookings are necessary and dressing in "Berlin Chic" attire is recommended. Prancing Pony will also transform their Brewshed "into a slice of Berlin" complete with street art created by local artists, live music and Currywurst snacks.
The party is the culmination of the partnership between the two producers where they've recreated the tradition of "softening" the Berliner Weisse's mild sourness and tartness with a shot of fruit syrup, either before or after the beer is poured into a traditional goblet.
With both companies sharing Germanic ancestry and situated just four kilometres apart in the Adelaide Hills, Prancing Pony's co-founder Corinna Steeb said approaching Beerenberg's marketing director Sally Paech for the collaboration "was a no brainer".
"We wanted to make a version of a Berliner Weisse and, knowing Sally's family background and the high quality of their products, there was only one place to go for the best quality syrup shot to go with the beer," Corinna said.
Corinna said the collaboration is also being marked with a special gift pack that features nine cans of the Berliner Weisse plus a bottle of the Beerenberg syrup.
"It's exclusively made for this project so you can have all the fun of playing around with various amounts of shot just like the Berliners do," she added. "You may even try it neat and try some of the syrup over vanilla ice cream perhaps."
Head here for more information about the Berliner Weisse launch party.