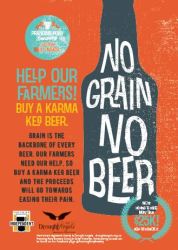 South Australian brewery Prancing Pony is providing pubs and bars across Australia with 'Karma Kegs' to help them raise much-needed money to donate to rural communities.
The brewery will provide up to 70 kegs to participating venues for $50 (to cover tax excise only). The venue will sell the Karma Beer and donate the proceeds from the beers sales directly to the brewery's nominated charity Drought Angels.
The campaign is called No Grain. No Food. No Beer. and intends to not only help Aussie farmers, but also highlight how drought has a flow-on effect on our everyday lives.
"This campaign was initiated by two of our brewery employees, who felt strongly about supporting the farming community and as a business we're also strong supporters of the farming community, so this fits well with our business philosophy," says Prancing Pony's CEO Corinna Steeb. "Having a beer with mates is an everyday tradition for many people, so providing a Karma Keg for drought-affected areas seems the logical thing to do.
"We just wanted to give something back to the people who really are this country's lifeblood and essential to small businesses like ours. Our goal is to raise at least $25,000, but there are hopes to make more."
The campaign started on Monday 6 August and will run until Monday 3 September. Venues that wish to participate should contact the brewery.
Participating venues include the following:
South Australia
Edinburgh Cellars
Arkaba Hotel
The Barker Hotel
The Palace Hotel, Broken Hill
The Haus
Kings Hotel
Wakefield Hotel
Duke of York Hotel
Keg and Barrel
Normanville Hotel
The Duck Inn
The Colonist Tavern
The Mile End Hotel
The Unley Hotel
Mick O'Shea
The Commercial Hotel
New South Wales
The Temperance Society Summer Hill
Bucket Boys
Woolpack Hotel, Redfern
Victoria
Foragers Drop
Saint Charlie
Queensland
Three Little Pigs Tavern
Peel Street Tavern