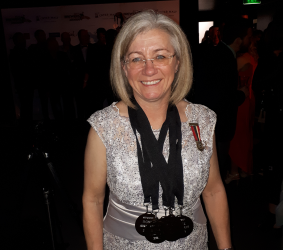 Tracy Banner, master brewer and owner of Sprig & Fern Brewery, will celebrate 35 years in the brewing industry on 21 September 2018.
Dubbed the 'Mother of New Zealand Brewing', she has since been recognised in the past for her services to the brewing industry, and has judged in national and international competitions. Banner started in the brewing industry at the age of 16 in south west England, working for Green Ale Whitley Brewery as a lab technician, before moving to work for Bass and then a brewery in Liverpool.
In 1994, she and her husband sold everything and moved to Auckland, New Zealand, to work for Lion, before settling in Nelson. She has since worked with McCashins, Lion again, Speights and is now the full owner of Sprig and Fern Brewery – formerly Tasman Brewing Company.
"What struck me back in '94 was the choice was so limited," she recalls. "And a lot of the beers were very thin and watery. In Nelson with McCashins, I had that little bit of freedom and flexibility to brew what I wanted.
"Craft started here a little bit ahead of Australia. Basically, it started with myself and Richard Emmerson and a number of other brewers. We were instrumental in changing the beer scene in New Zealand. We kicked off in the mid 90s and we were chipping away and then there was a big growth spurt in 2000 to 2005, and in the last five years, it's stepped up massively. It's amazing. We're coming up with lots of new styles. Now anything goes and people are putting the weirdest ingredients into beer, and most times it works."
"My philosophy of brewing is quality and consistency, and that's something I've drummed into my teams over the years and made them better brewers. If you've not got quality or consistency you might struggle out there. I was a sponge for information at a young age [with Green Ale Whitley] and I was still a sponge [at Speights]."
Banner will be touring all of the Spring & Fern Taverns and Little Sprig Seatoun to celebrate with the Sprig & Fern community. The first event kicks off on 19 September at Sprig & Fern Tavern, Hardy, St Nelson, and concludes on 2 October at Sprig & Fern Tinakori Road, Thorndon.
In addition, four collectable glasses and a limited release celebration brew, entitled Soirée, will be launched. The beer is a Marzen Rauchbier that uses Bamberg Beechwood Smoked Malt.
"I did my own beer for my 30th anniversary, so I told my team that it would be nice if someone did one for my 35th!" adds Banner. "It's called Soirée because I'm going to havean evening celebration at some of the taverns.
"The craft beer industry in New Zealand is one that is always evolving, especially as consumers are becoming more discerning," she comments. "Personally, this means it is a career and, of course, a passion that continues to grow every day. There isn't any other career I could imagine having undertaken or being this fulfilling."