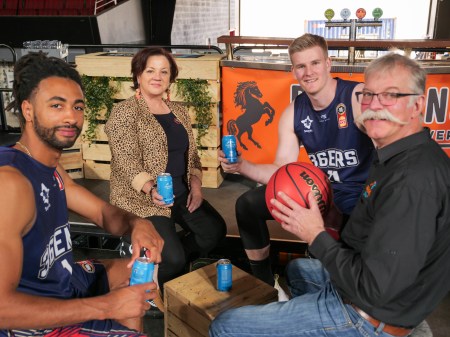 Prancing Pony Brewery has partnered with NBL team the Adelaide 36ers, setting up a courtside bar at the Adelaide Entertainment Centre (AEC).
The Prancing Pony Brewery Deck is positioned just behind the baseline and gives floor seat holders access to a mix and mingle bar. The courtside bar is called The Pony Deck and will officially open for the basketball team's inaugural game at the AEC on Saturday 19 October.
It has been designed to mirror Prancing Pony's atmosphere at its brewery in the Adelaide Hills.
"To us, it was a natural partnership. Like the Adelaide 36ers, we are proudly South Australian, and we love to support family and community-based activities at our brewery," explains Corinna Steeb, Prancing Pony Brewery's CEO and co-founder.
The 36ers drew their inspiration from the NBA's Atlanta Hawks, who installed a courtside bar in 2017.
"It's fantastic to partner with another proud South Australian brand that is committed to quality and the community like we are," adds Matt Hanton, Adelaide 36ers commercial manager. "Prancing Pony Brewery products are world class, just like our players and we look forward to building a great partnership.
"Our move to the AEC was a fantastic chance to rethink what we do and to bring a new and fresh offering to the 36ers family. The Prancing Pony Deck offers a truly unique experience that you won't find at any other Australian sporting event."