Pirate Life has announced the official launch of its Port Adelaide brewery will coincide with its fourth birthday.
Located on the corner of Baker Street and Barlow Street in the redeveloped Port Adelaide area, the new brewery is in the 1938 Dalgery Woolstores and cost $15 million to construct. It will officially open on 9 March, with eight new limited release birthday beers set to be launched in celebration and will be available at the launch party.
The Port Adelaide brewery will be able to brew 8 million litres of beer a year, and will focus on producing Pirate Life's biggest selling beers. The existing brewery in Hindmarsh, which has an annual brewing capacity of 3 million litres, will continue to operate, focusing on creating new and innovative beers. Pirate Life co-founder Michael Cameron hopes to brew between 40 and 45 new beers this year.
"We've been working on Pirate Life at the Port for more than 12 months and we've come so far," says Cameron. "And while our original Hindmarsh brewery, bar and shop will remain open for business, the Port brewery represents a vital injection of culture at an exciting time befitting the area's resurgence.
"Our new brewhouse in the expansive, proud old Dalgety woolstores really is a sight to behold. From the brewery to the bar, the food offerings and our ongoing events schedule, we reckon you'll love being there as much as we do. We're just four years old but we've got a lot to celebrate."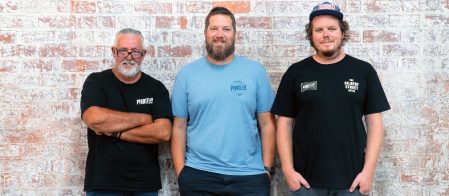 The brewery will have a new taphouse with a 22-yard main bar (the length of a cricket pitch), offering 24 taps. In addition, the taphouse will feature a tasting room, a  Pirate Life shop, food from Robbie's Chop Shop and a traditional barbershop, featuring a full complement of barbers and services and a wide range of RCS merchandise and grooming products.
"South Australian beer lovers have shown us a great deal of respect and support," adds John Phinney, Pirate Life CEO. "On top of that, we've had incredible backing from the state government, our colleagues at Carlton & United Breweries, and our new neighbours at the Port Adelaide Council, and we're very appreciative of that. Now it's time for us to share the love… and we encourage everyone to drop in and stay for a while."
"Our customers love Pirate Life and we have guys coming all the way to Unley from the north western suburbs for a cut, it just made sense," says Robbie's Chop Shop founder Robbie Ferrante. "The two brands share a common lineage of not only being local institutions but also loving what we do and having fun doing it."