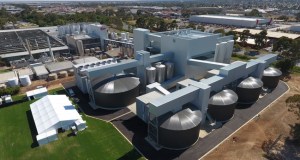 Coopers' new malting plant at Regency Park has enjoyed a promising start, reaching 90 per cent of its 54,000 tonne a year capacity.
The malting plant is now ahead of budget, producing almost 50,000 tonnes of malt this year. Coopers will use about 16,000 tonnes for its own beer and 21,000 tonnes will be exported to Asia. Domestic craft brewers and distillers are predicted to use about 5,500 tonnes – more than 10 per cent of annual production.
Asian customers include Thai Beverage, which uses Coopers' pilsner-style malt to brew its Chang beer, Carlsberg in Vietnam and South Korea's Hite Brewery.
"We are supplying Japanese brewers in Australia and Vietnam but we are yet to actually supply them in Japan so I think there are some opportunities there," says Coopers' malting manager Dr Doug Stewart. "We planned on having roughly a third (of total malt production) going to Coopers, a third domestic and a third export so we're probably a little bit above on the export to Asia, which is good."
The Coopers maltings allow for batch sizes of 180 tonnes and has been built specifically with specialty batches in mind. Its segregation and storage capabilities mean three or four of the 12 silos at the plant can be reserved for the craft industry.
The amount of malt that Coopers has sold to local craft brewers is enough to brew about 25 million litres of beer according to Dr Stewart.
"A growing number of craft breweries are sourcing malt from Coopers," he says. "Sales have also been made to whisky distillers in Sydney, Melbourne and regional South Australia.
"The reason why we like the craft story is because that's been a big part of our strategy from day one – we wanted to differentiate ourselves from the other maltsters who don't make craft malt a primary focus whereas we have a real focus on growing that.
"At our scale the craft industry is meaningful to us but we're small enough and nimble enough to do the contract-grown barley on Kangaroo Island, to bring back Schooner barley, we can do all those things quite well so that's where we are focusing a lot of our energy."
According to Dr Stewart, if demand continues to grow there was room at the Regency Park site to double capacity by adding a second set of steeps, germination vessels and another kiln.
"We've deliberately not gone to 100 per cent yet, this'll be our second year and we've still got some commissioning to do and some improvements to make," he explains. "I think we'll tidy everything up in the next six months and then we can push the volumes up.
"We might prioritise some markets at that point but potentially we can double the capacity so that will be a big decision."