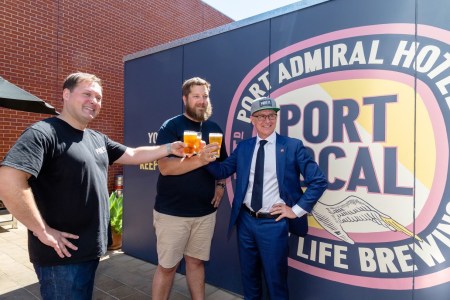 By Andy Young, TheShout
Pirate Life has secured $2m in funding for its new brewery and bar venue in Port Adelaide, which will see the creation of more than 80 new jobs and is scheduled to open in December this year.
The site, which Pirate Life revealed they would be opening at last year's Australian Craft Brewers Conference, will be one of the largest craft breweries in South Australia adding over 10 million litres to the three million litre capacity at the brewer's existing Hindmarsh facility.
But Pirate Life co-founder, Jared Proudfoot, told Beer & Brewer that the grant and the new facility are linked to the hospitality side of the venue and the jobs that will be created.
"The big part of this is the hospitality side of things, it's closely tied to the jobs that we are going to create for the hospitality in Port Adelaide," Proudfoot said. "It's going to be a reasonably sized brewpub that will be able to hold 250-300 people, but that is something that we are going to have to grow into.
"We are going to employing over 80 full-time equivalent employees over the next three to four years and the lion share of those will be in the hospitality business. There will be a few extra production staff, particularly in the early days as we get kicked off with the brewing and the hospitality follows that."
In addition, Proudfoot told Beer & Brewer that the new Port Adelaide facility will enable the brewer to use its existing Hindmarsh brewery to experiment and create new beers.
"That idea of creating new beers is probably on the third rung of importance for the new site. The step up is quality that we are going to have is very important; the volume is extremely important, but being able to free up some of the capacity at Hindmarsh means that it becomes a good little playground for the brewers.
"I might even get back on the tools and get my hands dirty again."
Pirate Life Chief Executive John Phinney, said that is excited about working with the state government and about opening the new Port Adelaide brewery.
"Pirate Life is proudly South Australian, so we're stoked to be partnering with the Government to create jobs in Port Adelaide and grow the South Australian economy," Phinney said.
"Our decision to choose Port Adelaide and expand our business in South Australia was reinforced by the support we received from the State Government and displays our confidence in South Australia.
"It has been a great experience partnering with government and we couldn't be happier about building what will be Australia's best craft brewing destination in Port Adelaide."
South Australia's Premier Jay Weatherill said his government was happy to support the South Australian business in bringing more jobs to the state.
"This young South Australian company has quickly distinguished itself in a rapidly growing craft beer market, catching the attention of consumers nationally and internationally," he said.
"Importantly, this new premises will create more than 80 local jobs. Jobs are the State Labor Government's number one priority, which is why we are investing in projects such as this one. After a few false starts, the Port has entered a new golden era.
"Pirate Life will be a key tourism drawcard for the Port, and I look forward to seeing the company achieve their goal of becoming one of Australia's largest craft breweries."
The state government's contribution comes through the Economic Investment Fund and Pirate Life has said that by 2025, 100 per cent on the state-of-the-art brewery's electricity will be sourced from renewables.