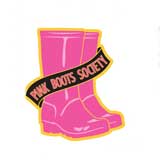 The Pink Boots Society has put a call out to all women who
work in the beer industry in WA to join them for their inaugural meeting, to be
held at Five Bar on 14 May, 2014.
The event, billed as a 'meeting of the minds' for female
beer industry workers, is designed to kick-start the Pink Boots Society, which
will create events to encourage all women to get involved in tasting and
talking about beer.
The $10 entry fee will cover some beer, finger
food and raffle prizes on the night. Five Bar is located at 560 Beautfort
Street, Mt Lawley. Anyone interested in attending the evening is asked to RSVP
to Kris Latham, by email here.