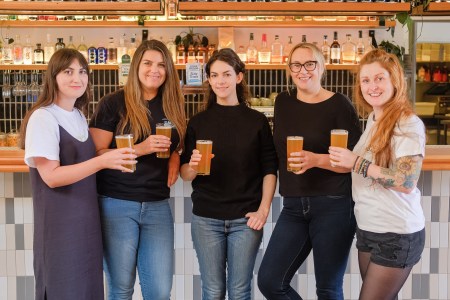 Pink Boots Society Australia and Gage Roads have announced applications are open for a range of scholarships across the country, to help support women in the alcohol industry grow and develop their careers.
The scholarships will be awarded to 14 women to attend the upcoming Women in Leadership and New Leaders programs through the Australian Institute of Management, with four places in Western Australia and 10 on the East Coast.
Gage Roads has donated $10,000 to help fund the scholarships, with proceeds raised from this year's International Women's Day beer release, with Pink Boots also contributing to fund additional places.
"In March, we released Tea Break Earl Grey Pale Ale, which was created and brewed by an all-female team here at Gage," Gage Roads brand lead Bec Lauchlan said. "The proceeds from that release have helped fund this round of scholarships. We're stoked to help fund these scholarships with Pink Boots Australia, to support the continued education and development of future female talent within the alcohol industry.
"This initiative is all about driving visibility & exposure of our industry, to encourage diversity and bring women into beer. We're lucky to have a group of really talented women in our team here at Gage, and we want to grow that across the industry."
Pink Boots Society President Tiffany Waldron said the group was created to assist, inspire and encourage women in the alcoholic beverage industry, to advance their careers through education.
"We started this year with the goal of supporting more women moving into senior and leadership positions in our industry. The stigma around women entering this male-dominated industry has certainly become less of an issue over the years, but we know that diversity (as a whole) is still something the beer industry is striving for.
"When Bec and the team at Gage Roads came to Pink Boots with the idea to brew Tea Break, and donate proceeds to supporting women in beer, we decided to create an initiative for scholarships with this very generous donation.
"With our goal of looking towards leadership support, the idea came together pretty quickly. I believe to change and grow, it's important to see more diversity, not just on the floor of any brewery, but also in the seats making decisions in our industry. That's why it's important to empower and educate women to help take steps to move into more diverse leadership across our community as whole.
"These scholarships will help to provide our members the additional skills and confidence to start to take these steps into leading our industry."
Applications are open to Pink Boots Australia members, with non-members able to sign up to Pink Boots to be eligible to apply. New members can sign up here. Scholarship applications close on August 31.
This is an edited version of a media release distributed by Gage Roads.