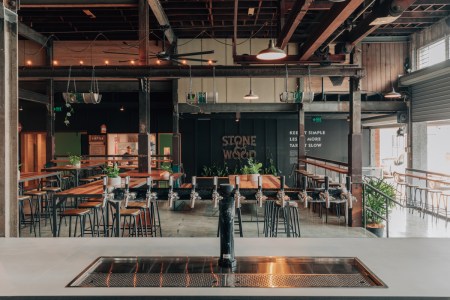 Stone & Wood has opened its Brisbane brewery in Fortitude Valley.
The brewery itself features an eight-litre brewhouse and five fermenters. As a venue, it will feature 24 taps showcasing Stone & Wood's core range, as well as limited and seasonal releases.
It is housed inside a heritage-listed building on Bridge Road that once held Trails Ice. The heritage of the building has been cited as one of the major reasons for the delayed opening, which had been scheduled for early 2019.
"Trying to squeeze a brewery into an 80-year-old building that wasn't designed to be a brewery definitely meant that we needed to take the time to get it right," says Lou Klatte from Stone & Wood's creative and community team. "The results speak for themselves and it was well worth the challenge."
Brisbane has long been a target for Byron Bay-based Stone & Wood.
"We have always considered Brisbane to be part of our backyard. Brisbane's indie brewing scene is so fresh & dynamic with a well-established reputation for award-winning quality and brewing techniques," adds Klatte. "Importantly, we hope to see our Brisbane brewery join our nearby brewing mates on Brisbane's burgeoning beer trail as a place to slow down, connect & have a conversation."
The brewer itself will employ a team of 15, including venue manager Dave Marshall, who has previously worked at Archive Beer Boutique in West End.
Sam 'Macca' McDonough will take over a brewer, having worked at Stone & Wood's Murwillumbah production brewery for almost five years. He will be making Stone & Wood's core range, but will also have the opportunity to produce one-off small batch beers exclusively for the venue and the Brisbane market.
"As part of our production team's professional development, brewers have the opportunity to spend three months in our original Byron Bay brewery, during which time they have free rein on our pilot batch system," says Klatte. "Throughout this time, Macca's passion, creativity & attention to detail flourished, making him the perfect fit to take on the challenge of running our Brisbane creative outputs.
"Macca will be brewing different beers each week, the first of which will be his very own award-winning Belgian Style Saison, dry hopped with Amarillo, Citra and Galaxy with a dry orange peel addition in the whirlpool."
Stone & Wood has also launched an exclusive 'brewery-to-door' Beer Club.
Members will receive monthly members-only video content, as well as specials and beer packages direct to their door every two months.
The bi-monthly packs will feature variations of Stone & Wood's limited release beers – including the Counter Culture range – merchandise, Stone & Wood event ticket deals and other exclusive offers.
Membership is $15 per month and can be purchased on a rolling basis or as a six-month membership.