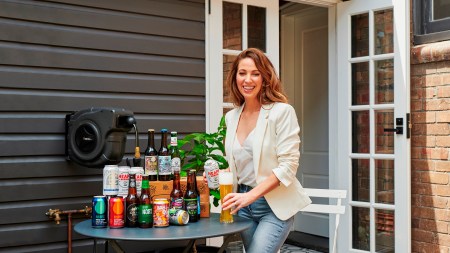 A "perfect storm" of the Dry July event and Greater Sydney's Winter lockdown coinciding have seen Australia's first wholly non-alcoholic bottle shop's sales surge in recent weeks.
Irene Falcone, owner of San Drinks, that has been retailing online since October last year and opened a store in the suburb of Freshwater on Sydney's Northern Beaches in May this year, has described the experience of her first July sales period as "overwhelming and unexpected" and that she was "completely and utterly unprepared" for the demand that has occurred.
She said sales "took off" in the last week of June as people stocked up for Dry July, where her online orders tripled and they recorded their biggest ever in-store trading day, and that trade had remained "consistently busy" since.
"It's just been overwhelming and unexpected. I didn't realise it would be so big, so we've had to try and quickly get more people working in the warehouse," Irene (pictured above) told Beer & Brewer. "I would say it's the perfect storm of Dry July, lockdown and COVID, but also Winter as well. People are really craving stouts and red wine in this weather and those are two areas I really underestimated coming in to this Dry July period."
The likes of UpFlow Brewing's Stout and Big Drop's Galactic Milk Stout were the most popular while Irene said she was struggling to keep up with the demand for Sobah's Pepperberry IPA.
"Stouts have been huge for me this Winter – spiced rum too. The trend is less towards the cocktails and more to those comfort drinks. It's added to the perfect storm – people are locked up inside, whether in lockdown or not, and they're wanting those warming, comforting drinks just like they would if they were drinking the alcoholic versions.
"This movement (towards non-alcoholic) is so much more refined than people think it is. I've done my own research in to who my customers are and why they are my customers and the number one insight, for people buying non-alcoholic beer, is they are predominantly male and they are regular beer drinkers who will continue to be regular beer drinkers. They love beer and the reason they're drinking the non-alc beer is for two reasons: they love all beer and they're curious about what it is and what it tastes like and they're ending up really enjoying it; and the other reason is they want to drink less alcohol but still enjoy a beer. None of my customers are people that don't drink alcohol. My customers love beer."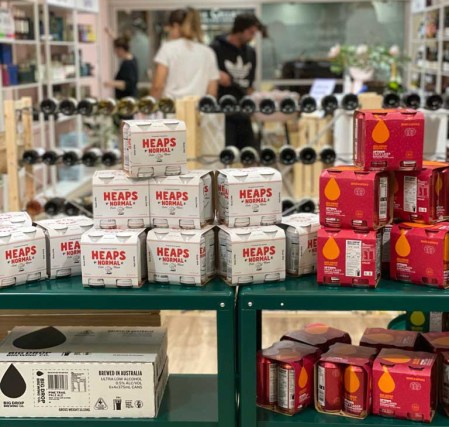 Reflecting on why the non-alcoholic beer category had seen such growth in the last year or so, Irene said "it was simple – it tastes good and that message has spread like wild fire". She said alcohol-free beer had been made "legitimate because the right people are making it and now the right people are drinking it".
"The public have seen the ground swell and the promotions around it and that's amplified it here in Australia. Firstly, beer got produced in the non-alc space that tasted good. Secondly, it got really well promoted and got good publicity and more and more men got to know there were all these great options out there. And thirdly, and kind of like where the rubber meets the road in all of this, enough cool men talked about it and enjoyed it and it made it cool and acceptable. That is the most important part. You need cool people to make it appear cool. And that's why it has been as successful as it has been."
With plans to open up to 20 more stores across Australia in the coming years, with her eyes firmly set on Sydney's inner-west for the first of those, Irene is adamant the non-alcoholic beer category has room to grow and she felt Sobah – who have pioneered the movement in Australia since launching in 2017 – were continuing to lead the charge.
"There's such a demand and a want for the likes of Sobah's beers and I think it's partly because of the extra things they are doing – like brewing with Davidson plum for example. It's pushing them into a whole new category of non-alc beer and that's 'beer with benefits'. This is where more and more women are being attracted.
"In the non-alc beer sector women want a beer that is low calorie, low in carbs and low in sugar but has those extras like botanicals that add other health benefits like for hair, skin and nails. This is where the market is going. It's not just craft beer for men. It's about the health aspects too. It's so exciting."