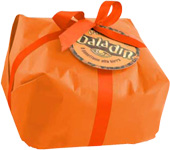 Purveyors of fine Italian munchies, Enoteca Sileno, really wants craft beer lovers to have a good Christmas. And with their Beer Panettone, it will be all but assured.
A play on the traditional Italian christmas bread/cake mash-up, Le Baladin Panettone Alla Birra has been made in the traditional style, only enriched with Le Baladin Xyauyu Riserva Beer 2008, a double-malt, savoury dessert beer.
This delicious combo is a collaboration between Le Baladin brewer Teo Musso and Max Albertegno from Albertengo Panettone.
The duo experimented with the recipe before settling on a version that allows the fragrance, colour and texture of the panettone to blend perfectly with the savoury-sweet note of the Xyauyu beer. And decorated with an almond glaze it is sure to add some flair to any Christmas celebration, whether you eat it straight up and warm out of the oven, or work it into your Christmas beer-matching repertoire.
For the curious, Teo Musso of Birrificio Le Baladin opened his brewery in Cuneo in 1996 who set out to make an oxidised beer in the style of sherries form Jerez. The result is the Xyauyu which is smooth and silky, like candied plums and caramel, infused with fino sherry. He is also known for selecting "clean" ingredients which are grown without the use of chemicals and come almost entirely from the Italian countryside.
The Vital Stats: Le Baladin Beer Panettone
Weight: 1kg
Region: Piemonte
Ingredients: butter, beer, candied fruit, flour, natural yeast, sugar, sultanas.
How to Serve: Best enjoyed slightly warmed accompanied by something festive – why not the double malt savoury dessert beer with which it is baked?