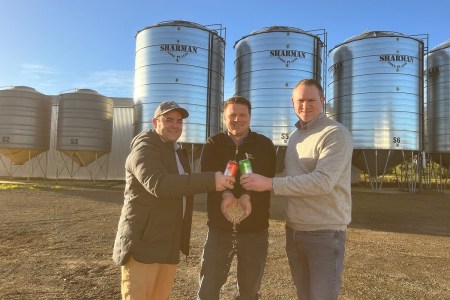 As the provenance of ingredients becomes increasingly important to beer makers and drinkers, a traceability project is being launched where South Australian barley farmers can be "front and centre" as their crops journey from the paddock to a pint.
In partnership with Coopers Brewery, agtech company Trust Provenance and grain traders Archer Daniels Midland, Grain Producers SA are looking for expressions of interest from South Australian growers to take part in the pilot program. The project will see a selected group of 10 barley growers work with Trust Provenance's software to capture data points along the barley's journey which will then link into Coopers' software to enable a full paddock-to-beverage traceability platform.
Grain Producers SA said the intention of the South Australian Government's AgTech Growth Fund-financed project is to increase the transparency of the barley crop's journey and align with growing consumer trends and demands on product procurement and sourcing locations.
"This is an innovative way to track a barley crop from harvest all the way through to consumption, with transparent origin information being collected and potentially displayed on the bottle (or can) through a unique QR code or similar application," Grain Producers SA CEO Brad Perry said.
"South Australian barley growers have been supplying Coopers with high-quality malting barley for years, but this project will really bring the farmer front and centre, allowing consumers to witness barley production processes first-hand and 'meet the farmer' so to speak.
"It's a fantastic initiative that will be increasingly important as businesses seek to be more transparent with their supply chains and consumers demand to better understand the origins of the products they choose to consume."
The requirements* from barley producers involved in the project include:
Providing on-farm information specific to the malt barley produced (this can be done via a range of farm management software systems); and
Providing on-farm storage information specific to the malt barley (this can be done via a range of farm management software systems)
For barley growers interested in participating in the project, email Grain Producers SA on info@grainproducerssa.com.au with your name, location and contact details. Expressions of interests close September 2, 2022.
*All information remains confidential between the barley grower and Coopers.