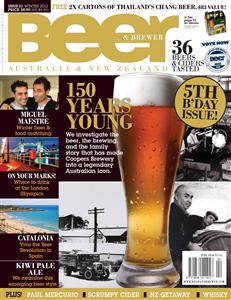 We suggest you run, not walk, to your closest stockist to get your hands on Issue 21. We think it is our best yet with features on our cover star Coopers, as they celebrate their 150th Anniversary, as well as investigations into KPA – Kiwi Pale Ale – and whether or not it is a 'style', and how to classify scrumpy cider – leg-wobbler or the purest form of cider? There are also tasting notes on 36 new beers, ciders and spirits, and recipes and beer matching advice from the experts.
There is loads more too, but we can't give away all our secrets now can we? What are you still sitting there for? Go on, get up and go and buy one. And some beer. Don't forget the beer.
Issue #21 is available now from Dan Murphy's, 1st Choice, BREW Cellar and homebrew stockists, as well as leading newsagents, and independent bottleshops and breweries.
And for those who prefer electronic devices the digital version is now available through the Beer & Brewer app.
For back issues contact 1800 651 422