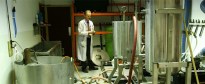 John Hatch is the man responsible for single-handedly preserving the heritage of Britain's oldest brewery, The Ram, which has records dating back to 1533. His story has been featured in a short film released online through 1000 Londoners, the most in-depth and expansive documentary series ever made about a city.
Hatch is a passionate connoisseur of beer and brewing and from a young age worked for Youngs, which brewed its beer at The Ram in Wandsworth, London. In 2006, Youngs announced that they had sold the site to property developers.
Upset at that idea that the brewery's long history would be lost, Hatch began brewing one batch of beer every week to keep the records going until the site is redeveloped with a new micro-brewery. He has done this for nine years.
Hatch sustains his makeshift brewery through donations from visitors and regular comedy nights held in his sample room. The film was made in collaboration with Chocolate Films, to watch his story click below.
Written by Caitlin Burns