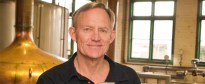 What better way to spend Valentine's Day then at Kosciuszko Brewery's first Craft Beer Festival? Hosted by internationally renowned brewmaster, Chuck Hahn the free event will be held this Valentine's Day weekend (14-15 Feb).
"I am thrilled to be part of the inaugural Kosciuszko Craft Beer Festival; I am even brewing a specialty Thredbo batch for the event," said Hahn.
"Craft beer is born of a mindset; an idea between art and science executed by the dedicated skill of a brewer. As a nation we love the frothy amber ale, with more than 200 craft breweries in Australia and double the number of craft beer volumes in the last five years, representing over 4 per cent of the total market."
Hahn will take festival-goers on a craft beer journey with masterclasses, presentations, blind tastings and information sessions. Whether it's learning how to become your own craft brewer, mastering the unique flavours of local beers coupled with the finest cheeses, or enjoying live music and sampling, the festival is sure to entertain beer and food lovers alike.
For more information, click here.
Written by Caitlin Burns