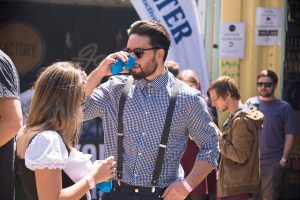 The Inner West Brewery Association has announced the return of Oktoberwest to The Factory Theatre from 6 to 7 October 2018.
The festival has expanded to two days following the sell-out success at last year's inaugural Oktoberwest. The breweries involved are all from Sydney's Inner West – Young Henrys, Willie the Boatman, Wayward Brewing Co, The Grifter Brewing Co, Batch Brewing Co, Sauce Brewing Co, Philter Brewing and Malt Shovel.
"We're glad we're into beer season," says Peter Philip, founder of Wayward Brewing Co and president of the Inner West Brewery Association. He co-founded the event with Young Henrys' Richard Adamson over a beer.
"It's always a good time for a festival after a long winter. We wanted to run a beer festival that was focused on the Inner West. We know the guys at The Factory Theatre pretty well so that became a natural partnership.
"Last year went off with such a bang, we thought we'd make it a two-day event – bigger, better, more food, more beer, more food trucks, more music. It's developed into the festival that we always wanted to have."
Each brewery will be providing four beers for the festival, which will include a beer with German links as a nod to Bavaria's Oktoberfest.
"The hallmark of the Inner West is we like to experiment a lot, so there should be a lot of interesting seasonals and one-off batches available," adds Philip.
Downstairs there will be a semi-outdoor area with food trucks, while there will be beer available in theatre rooms. The main theatre room is to be transformed into a beer hall with long tables, benches and table service.
The bands involved include Bad//Dreems, Philadelphia Grand Jury, The Chats, JD and the Hunger Men, Bloods, and Rock'n'Roll Karaoke with Dave Eastgate. In addition, there will be free arcade games, a Mario Kart tournament, stand up comedy and Brewery Bingo with the Mayor of Inner West Darcy Byrne.
"We're going to have dames and comedians and we've got Darcy doing Brewery Bingo," says Philip. "It's a real beer hall atmosphere that's really fun. I think this year, it'll just be more. Last year we had a room with arcade games, this year they're going to be free to play. We've got an oompah band this year.
"I think it's going to be more than a place where you sample beer. It's going to be very activity-based. Other festivals, you go from stand to stand tasting beer, which is great. This is about the vibe and having a great laugh. The beer is great too, but it's a social lubricant rather than the main event of the festival."
To find out more, visit the website.