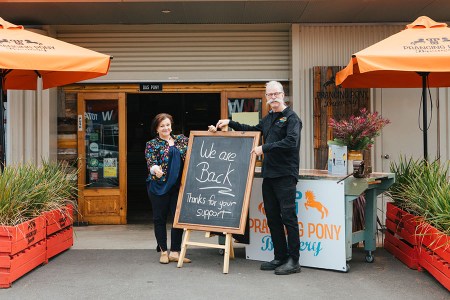 You may have seen us on the news, heard us on the radio or read about us in the paper for the past week.
This is because last Thursday, the day before a long weekend, we were issued with a Directive to close our Pony store in three hours and cease our pick-up and drive thru service. Co-Founder and CEO Corinna got her gloves on, and fought for her business and other businesses around South Australia, as well as her staff, family, kids and grandkids.
With guidance from Stanley Law we fought the fight to win back our right to trade as a pick-up service not only for us, but for other businesses in the local community. We had over 4,300 people sign our petition; 400 people shared our posts, 850 comments posted on our social media accounts, we knew we had the support of many. Thank you.
We are now back.
Our Pony store is alive, offering takeaway food and beer, for all locals to enjoy. We are ready to ready to serve our community, a bit different to what we are used to, but… the world is changing at a rapid pace and we must keep up.
Like many other breweries we will continue to do what we can to stay alive. You can help us all by #keepinglocalalive , keep your eyes peeled to the Prancing Pony social media pages, visit our online store and website for updates and NEW exciting ideas and off course to purchase your favourite Pony, delivered straight to your door.
Coming up in the next few weeks we will have our NEW growlers ready and hopefully soon, our sanitiser will be available for you to purchase as well. Stay safe and get behind your local brewery.
Contact Details
Corinna Steeb (Co-Founder & CEO) 🍻
Prancing Pony Brewery
7/42 Mount Barker Road
TOTNESS
SA 5250
Phone: +61 – 8 – 8398 3881
Mobile: + 61 (0) 439 889 513
Website: www.prancingponybrewery.com.au
Facebook: PrancingPonyBrewery
Instagram: prancingponybrewery