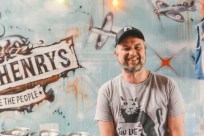 After taking the craft beer world by storm, the brewing rock stars at Young Henrys in Sydney's Inner West have now swapped their pints for tumblers as they delve into the exciting world of distilling
Known for colouring outside the lines, it's not too surprising the team at Young Henrys have added 'distiller' to their ever-expanding resume. Recently launching the new Noble Cut Gin at their inaugural Small World festival, it has been a busy time for the Young Henrys team. So why gin?
"Good question! A lot of brewers are gin fans. After judging at the Craft Beer Awards last week, which meant tasting over 30 beers in a day a lot of the brewers hit a gin bar and drank G&Ts and Negronis," said head brewer, Richard Adamson. "We also thought having control of the entire process gave us a unique opportunity to create something not seen in the Australian market before."
Not to mess around, Young Henrys imported a new 20 plate, 2000L distillery from the US made by an eight-generation moonshiner from the Smokey Mountains in Tennessee.
Combining brewing techniques and flavours with state of the art distilling, Noble Cut Gin has its foundation in a London Dry style but with local flourishes that reflect its origin. Being brewers Young Henrys loves malt and hops. So the base is made and fermented in the brewery from 100 per cent grain allowing end-to-end control of the final product.
While the botanicals include those you expect in a classic gin, juniper, coriander, orange peel, cassia bark, liquorice root and angelica root, there are some interesting beer-influenced twists. Added to the gin basket is a relatively new varietal hop from Tasmania called Enigma, which brings a flinty white wine characteristic reminiscent of Chablis. A nod to our native flora sees the inclusion of pepper berry and bush tomato delivering some peppery spice and savoury notes respectively.
Also included is some cascara, the skins of the coffee pods, from their friends at Toby Estate and their plantation in Panama, as well as some locally-grown Sencha tea from Perfect South.
Overall, the gin has a lovely floral perfume with spicy notes and a deep rich earthy base and the preferred garnish to compliment is ruby grapefruit and thyme.
As for which beverage Adamson prefers to craft and drink, it seems he's torn. "It's very much a mood thing. Both are incredibly nuanced things to make. They also share more similarities than other spirits do. I couldn't imagine life without both!" he said.
Not one to rest on his laurels, Adamson has plans to further expand Young Henrys' spirits repertoire.
"We will be releasing an un-aged whisky, white dog or moonshine, in the near future featuring some different malts we use in the brewery," he said. "We would like to age some whisky as well but we are all going to have to wait for that!"