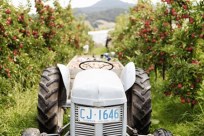 With cider continuing to enjoy stratospheric growth, Annette Shailer takes a look at some of the innovative ways the Apple Isle is tapping into the core of this growth.
Cider is still the fastest growing alcoholic beverage category although in the past year we have seen that growth begin to slow. While the category still grew at an impressive 20 per cent, this was down from previous years.
Cider Australia president and Willie Smith's co-owner, Sam Reid, said while the cider bubble may have slowed it certainly hasn't burst and there could still be room to grow yet.
"I think the cider market is beginning to mature – it has basically doubled in the past five years to reach almost 4 per cent of total alcohol consumed and so the same percentage growth will be harder to achieve each year from a larger base," Reid said.
"That said I do see there being a lot more room for growth like we are seeing in the very developed UK and French markets. The UK market for instance is 13 per cent of total alcohol consumed and so we have a long way to go until we reach that stage in Australia."
With Tasmania often referred to as the 'Apple Isle' due to its history as one of the world's major apple producers, it's not surprising it is home to some of Australia's best ciders. Tasmanian cider producers are lucky enough to have access to premium produce from third, fourth and even fifth generation orchardists, as well as some of the purest water in the world at their fingertips. However despite these spoils they are not sitting on their laurels. Instead a bunch of cider producers have banded together and, with assistance from the Tasmanian State Government, have formed the Tassie Cider Trail.
Tasmania's relatively small size made the creation of a cider trail for tourists and cider lovers a simple decision. With the philosophy of being stronger together than apart, The Tassie Cider Trail was formed. To date there are 10 cider producers involved; Red Sails, Frank's Cider, Dicken's Cider, Willie Smiths, Spreyton Cider Co, Small Players, Inn Cider, Pagan, Lost Pippin and Two Metre Tall.
"Tassie is a small place and producers often meet up at the many events and festivals that happen here and have a chat over a cider or two. Someone suggested getting together and forming a state body to complement the work of Cider Australia and so after that we began working with the government on developing the cider industry further," said Reid.
"Since Tassie has such a diverse range of cider producers with many different styles it made sense to develop and promote a touring route incorporating the cellar doors from around the state."
To complement the physical cider trail, a stunning new Tassie Cider Trail website launched about three months ago that features a map of the trail, information about the cideries, cider news, cocktails, recipes and even a cider school which can bring you up to speed on all things cider before you head to Tassie for a cider journey.
"To be part of something that strengthens the region and increases our reputation as a quality cider making area, while also tying in with other cider producers can only be a positive thing," said Damien Viney from Spreyton Cider.
"The Tassie Cider Trail allows consumers and tourists to experience all of Tasmania's cider producers and perhaps introduces them to the wider range of ciders being made here."
While it is still early days for the Tassie Cider Trail, the concept of being stronger together than apart is an important one, particularly as the industry continues to grow and diversify.
"I think by individual producers gaining recognition and awards, it strengthens the overall reputation of the group as a cider-making region," said Viney.
"You only need to look at what some international recognition for one or two whisky distilleries in Tasmania has done for the reputation of Tasmania as a whisky producing destination.