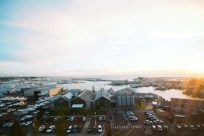 Best known for being the port of Perth and for their purple-jersey-wearing AFL team, Fremantle is also home to three breweries and beer writer, Jeremy Sambrooks.
I'm sitting on the balcony at Little Creatures Next Door, overlooking the fishing boat harbour. The sun is beginning to set and a glass of Pale Ale is in my hand. Life is good.
For a beer lover, Western Australia is becoming an increasingly great place to live, with craft brewery hot-spots in Margaret River and the Swan Valley, some of the country's best bottle shops and a flurry of small bars opening in and around the Perth CBD. However, it's still hard to beat the satisfaction that comes from a pint of an old favourite in Fremantle, the birthplace of Australian craft beer.
It all started back in 1984, a time when beer preferences ran along state lines and choices at pubs were generally limited to a couple of near-identical pale lagers. The owners of the newly-formed Matilda Bay Brewing Company purchased the run-down Freemasons Hotel, made renovations, installed a small brewery and re-named it Sail & Anchor. Hence, Australia's first new brewery since World War II and first modern brewpub was born.
Compared to the domestic pale lagers that dominated the market, the ales at Sail & Anchor were a revelation of complexity and flavour and soon the little brewery was struggling to keep up with demand. While the brewery was decommissioned in 2010, the Sail & Anchor remains a genuine craft beer destination to this day and will always be known as the place that changed local perceptions about what beer could be.
Little Creatures
If the Sail & Anchor got the Australian beer revolution rolling, then Little Creatures helped to push it into the next gear. The brewery building, which backs onto Fishing Boat Harbour, was originally constructed to house yachts participating in the 1987 America's Cup and was subsequently used as a crocodile farm before being converted for its current use. The brewery released its first beer, Little Creatures Pale Ale, in 2000 and it quickly developed a cult following. With its use of fresh, whole Cascade hop flowers, the ale smelt and tasted like nothing before within these shores. While far bigger, hoppier beers have followed since, Little Creatures Pale Ale remains a benchmark for the American Pale Ale style.
The other regular Little Creatures beers are: Rogers' Beer (amber mid-strength), Original Pilsner, Bright Ale, Pipsqueak Cider and their latest brew, an IPA. From time-to-time, curiosity gets the better of the brewers and they release a single batch beer, which are available in pint-sized bottles and invariably sell out quickly.
Little Creatures has grown over the years, expanding its capacity, opening a little brother brewery White Rabbit in Healesville, Victoria and most recently, a second Little Creatures brewery in Geelong. In 2012, Little Creatures was bought by Japanese-owned brewing giant, Lion, in a deal worth roughly $380 million. Reactions to the sale of what had become a 'Freo' icon ranged from outrage to ambivalence to some who saw it as an endorsement that craft beer has a real future in Australia.
Today, Little Creatures employs 40 brewers across both sites, one of whom is Russell Gosling, head brewer at the Fremantle brewery.
"I studied Brewing Science at The International Centre for Brewing and Distilling in Edinburgh before I journeyed around the UK learning my trade at Harveys, Ushers, Fuller's, Thomas Hardy and Everards," said Russell. "I decided to venture to Australia and have been at Little Creatures since 2005 – I absolutely love it!"
What's next on the horizon for Fremantle's largest brewery?
"We'll release two single batches in the next 12 months, the first one off the back of a collaboration-slash-challenge with our mates at Emerson's Brewery. We'll also introduce a range of seasonal beers; the first will be released in 2015, just in time for winter."
The Monk
Departing from Little Creatures, a short stroll across Esplanade Park and you'll soon find yourself on the South Terrace 'Cappucino Strip'. This is the bustling heart of the port city, where you'll find the Fremantle Markets, the Sail & Anchor and just across the road, The Monk Brewery and Kitchen. Open since 2007, Monk brewery has established itself as one of WA's finest, winning trophies and gold medals at state and national beer competitions. The Monk's core range consists of a mid-strength Pilsner, Kolsch, Bavarian-style Wheat Beer, Australian Pale Ale, Chief IPA, Rauch smoked ale and a Porter. You can try all seven, plus the latest seasonal brew in a tasting paddle for just $18.
Over the years, the brewers at The Monk have come up with a number of creative and delicious specialty beers, including Three Fires – a 250 IBU Double IPA, and a coconut-infused stout called Bounty, which has been lovingly described as a 'liquid lamington'.
Wander into The Monk and you'll notice the venue is divided into two distinct areas – inside and alfresco with the brewhouse located right in the centre. Here you can often see head brewer, Craig Eulenstein, hard at work using hands on methods to produce The Monk's excellent beers.
"I sort of just fell into brewing," said Craig, "the planets aligned and a friend randomly got me a shift working on the bottling line at Little Creatures back in 2003. A few hard working shifts later and I was running the bottling team and so on until I was in the brewhouse. After Little Creatures, I went east and worked for Mountain Goat Brewery where I was able to work my way up the ladder, now I'm back home in Fremantle. The Monk is quite a little brewpub, brewing 600 litre batches, down from the 2500 litres at Goat and 10,000 litres at Creatures! But it also offers a larger range of beers, which has given me great opportunity to develop recipes and expand my repertoire. We have an open door policy at The Monk, so next time you're in for a brew, pop your head in and say g'day. I'll be the bearded beast wielding a mash paddle!"
Blacksalt Brewing
Fremantle's newest and smallest brewery is located on the other side of the Swan River in North Fremantle, either a 40 minute walk or a short drive away. Salt on the Beach is located right on the beachfront of Port Beach, making it a great place to take the family or friends after a paddle or surf. The venue replaces its failed predecessor, The Oyster Bar, which ultimately was a bit too posh for the beachside location. Salt is a much better fit, serving honest good food and hand-crafted beer; and they don't mind sandy bathers!
Salt is really two venues in one – Salt Restaurant, where you can enjoy a delicious array of modern Australian and Asian share plates as well as a buffet breakfast every Sunday; and Blacksalt Brewery and Beach Bar, where you can choose from the same menu, opt for a pizza from the wood-fired oven, or just come to enjoy a paddle of the brewery's finest beers.
Blacksalt Brewery has been operating since 2009, with twin brothers Geoff and Dan Goddard sharing the job as brewer. The brothers are meteorologists who began homebrewing in their garage while at university and share a passion for the pure flavours of German-style beers. Blacksalt Original sits somewhere between a Kolsch and a Pilsner and is the perfect beer to enjoy while taking in the sea view on a warm, sunny day. The rest of the beer range is frequently changing and can include a Bavarian Dunkel, Blonde Ale, Hefeweizen, Dunkelweizen, Altbier and a Vienna Lager among other German-themed brews.
When to visit
Of course there's no wrong time to go to Fremantle, but beer lovers may want to consider timing their visit with the Fremantle BeerFest. Held in November at Esplanade Park, Freo Beer Fest is Australia's biggest outdoor beer festival, with more than 250 WA craft beers and ciders, beer education seminars, live music and plenty of activities to keep the kids happy.
Accommodation
Those on a tight budget should consider staying at one of Freo's many hostels, the pick of the bunch being Pirates Backpackers. Not just  one of the best pubs in the area, The Norfolk Hotel also offers nine rooms for overnight stay – a great option if you've had a few too many at their craft beer bar. If you can afford a little luxury, perhaps you'll opt to stay at the iconic Esplanade Hotel. Their premier spa suite is in a prime position with a generous balcony overlooking Esplanade Park.
Where to eat/drink
Visitors to Fremantle are spoilt for choice when it comes to dining and drinking options. All three breweries do excellent, reasonably priced food, but Fremantle is also home to three pubs which rate as a 'must visit' to any self-respecting beer aficionado.
The Sail & Anchor is a former brewpub and a Fremantle icon in its own right. Since the brewery was decommissioned in 2010, the venue has established itself as one of the country's premier craft beer venues with three bars, 38 cold taps, three beer engines, a hopinator and a growing list of bottled beers and ciders.
Just down the road is the Norfolk Hotel, home to some of Fremantle's best pub grub and an impressive line-up of local and imported beer across their taps, particularly at the craft beer bar located inside.
Clancy's Fish Pub Fremantle is the original of four Clancy's venues and since 1996 has been serving up generous servings of locally caught seafood, chips in paper cones and for the daring – 'fried mice' – deep fried jalapeno chillies filled with cream cheese. Clancy's are also big supporters of local breweries, with WA-brewed beer on all-but-one of their taps.
For cheap eats, consider any of Freo's three burgers bars – Missy Moos, Jus Burgers and Grill'd – or perhaps a classic fish 'n' chips from Cicerello's or Kailis Bros. For somewhere a bit more upmarket, foodies should definitely check out Public & Co. which is a relatively new restaurant that focuses on share plates and has an excellent bottled beer list.
If you're looking for some beer to take back to your accommodation, your best bet is at The Freo Doctor Liquor Store, who offer a wide range of local and imported bottled beers and have a growler-fill station.
Other things to do in Fremantle
No visit to Fremantle is complete without a wander down the South Terrace 'Cappuccino Strip'. Coffee fiends are spoilt for choice; some of the best options for your caffeine-fix include Moore & Moore Cafe, Vanilla Bean Cafe, Hush Espresso, Gino's and X-Wray.
Around since 1897, the Fremantle Markets are one of the port city's leading attractions. Open on Fridays and weekends, the markets are always worth a look, whether you're there for the fresh local produce or the independent artisans and craft shops.
Every visitor to Fremantle should consider checking out the Fremantle Prison which is WA's only World Heritage listed building. Closed since 1991, the prison is now a public museum and offers a range of tours, allowing visitors to see the prisoners' living conditions, prisoner art and learn about the many escapes of the legendary Moondyne Joe. Feeling brave? Then consider an eerie tour by torchlight, but be warned – there are a few surprises along the way!
A relatively new Fremantle attraction is the WA Maritime Museum, situated on Victoria Quay, where the big ships are. Highlights of the museum include the yacht, Australia II, which won the America's cup in 1983 and the HMAS Ovens – a retired submarine which saw 28 years of service in the Australian navy and is now open for guided tours.
You don't need to spend money to have a good time in Fremantle. Kids will love the playground and skate part at Esplanade Park, while swimmers can get their fix at either of Fremantle's beautiful beaches.