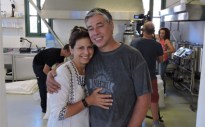 Hailing from the Cyclades archipelagos of the Greek islands, craft beer Nissos has launched in Australia this week.
Founder and master brewer Alexandros Kouris was in Australia for the release of the unpasteurised full-bodied Pilsner, which took home the Silver Bohemian-Style Pilsner 2014 Award at the European Beer Competition.
"Nissos is a beer with a very distinct flavour profile; I would say it is a full-bodied Pilsner. It is a sophisticated beer taste that will transform from sweet barley notes to more hoppy flavours at the end. So this is quite distinct and a lot of people are complimenting us on that. It has a golden colour and is 5% ABV; a full-bodied strong pilsner," said Kouris.
The Cyclades Brewery was created amidst the Greek financial crisis with the aim to support the country at a time of need.
"I was living in Abu Dhabi in 2011 and while everyone was looking at how to de-invest and take money out of the country I was doing the opposite. I was investing money in the country and creating this brewery and that got a lot of media attention at that time, so before the beer was even produced, we had 25,000 people as Facebook friends," said Kouris.
"People were inspired by the Nissos idea and this was our vision, to inspire people into being productive and creative."
With Australia's large Greek community, Nissos hopes it will be embraced as the truly authentic Greek beer of choice.
"We are not an industrial beer, so I think it is pretty obvious the difference between us and mass produced Greek beer. We are humans, we are not just a nice label with a Greek name we have the community behind us and origin. This is a fully imported beer," said Kouris.
Initially, Nissos will be stocked at all Nick's Restaurant and Bar venues in Sydney through Beverage Imports, but will be rolled out into more venues over the next 12 months.