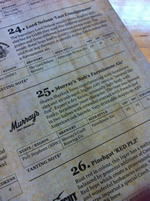 Bob's Farmhouse Ale (named after the home of Murray's brewing) is being released on draught at Murray's at Manly and Bob's Farm this Friday.
Brewed as Murray's contribution to this year's Great Australasian Beer SpecTAPular in Melbourne, and already aged for three months, Bob's Farmhouse Ale is an unfiltered farmhouse-style brew, exhibiting strong earthy yeast character and subtle oak complexity from a combination of French and American barrels. An easy-drinking brew, despite the high 9% ABV, it carries the characteristic farmyard-style from the traditional French yeast. Definitely worth a try for those nearby and fans of Murray's beer.
And in other news, old favourite Shawn's Fault India Black Ale returns to Manly only this week for a very limited run so get in quick before it goes.