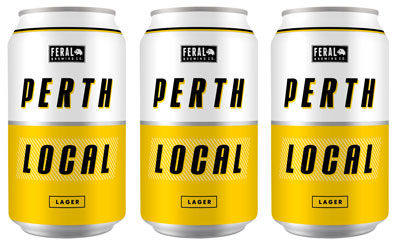 Western Australia's Feral Brewing Co. has deviated from its usual big hoppy ales and launched Perth Local Lager.
The lager will be brewed solely for WA, in recognition of the support the Perth public have given Feral over the past 15 years.
Perth Local Lager differs greatly to Feral's usual line-up of hop-heavy ales, offering a European-style clean, crisp and refreshing beer.
"For years, big breweries have used, abused and commoditised lager, exploiting the style for their commercial gain, while ignoring the delicacy and finesse typical of these beers. We're hijacking the style and reclaiming it for the people of Perth," said Feral's owner and founder Brendan Varis.
"A traditional, well made lager requires long, slow fermentation and extended cold maturation, often taking weeks or months and is a product of 100 per cent malted barley. By contrast, industrial lager is usually brewed and bottled within days and uses a large percentage of cane sugar as a barley substitute to reduce both cost and flavour. What we're seeing in today's market is consumers overwhelmed with marketing focused brands and not essentially basing their decision on flavour."
Perth Local Lager is available on-tap now and will be launched as the brewery's third canned beer release in November, after Sly Fox and War Hog.
"With the expansion of our new brewery and equipment upgrades, Feral has made a significant investment in sourcing a state-of-the-art packaging line from Leibinger, Germany," Feral's marketing and communications manager, Natalie Moeahu-Pehi told Beer & Brewer.
"The equipment upgrade will allow us to see Sly Fox (4.5 per cent session ale) and War Hog (7.5 per cent American IPA) make the move into aluminium cans alongside 4.9 per cent Perth Local Lager.
"Sly Fox Cans will be available from late October/early November."
The release of Perth Local comes on the back of continued success for Feral Brewing Co., which was recently named Australia's Best Brewpub by Beer & Brewer.  
In August, a nation-wide survey of more than 6,500 beer consumers conducted by Beer Cartel nominated Feral as Australia's Best Brewery.
While back in July, Feral was awarded top honours at the Perth Royal Beer Show Awards for WA's Best Brewery and the Nation's Best Commercial Brewery.
Perth Local is now on-tap at select venues around Perth with a wider draught release, 330ml bottles and 375ml cans available from November.