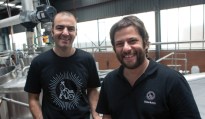 Lebanon's loss is Australia's gain. Mazen Hajjar, the founder of 961 Beer, has shifted to Melbourne to open a new brewery named Hawkers. He teamed up with friend and local restaurateur Joseph Abboud to launch the brand, which is named in honour of their time spent flogging 961 beers door-to-door a few years back. The duo has also hired Jon Seltin (formerly of Bright Brewery) as head brewer.
Hajjar is excited about the move. "People get it here," he says. "In Lebanon, I was talking to people who only drank Heineken."
Hawkers has already made quite a splash – its new world-style pale ale took out the Peoples' Choice Award at the recent Great Australian Beer Festival in Geelong.
Punters were no doubt swayed by its fresh-tasting profile, which delivers a heady burst of green hops without going overboard on the bitterness. The mellow mouth feel and sessionable quality can't have hurt, either. It's the first beer in a range which will soon include a pilsner, an IPA and a saison. Just look out for the cheerful man pushing a barrow on each bottle.
The brewery has an initial capacity of about 600,000L per year, but it's designed to grow. To this end, it's located in the semi-industrial suburb of Reservoir, where there's plenty of space for additional tank farms. "We could easily expand to 10 million litres a year if the demand was there," Hajjar says.
The setup is a change of pace for both men. Until three years ago, Abboud didn't even drink beer. It was only when he took a research trip to Lebanon to find beers for his Middle Eastern restaurants that he discovered 961 and became a convert. Hajjar, meanwhile, remembers stirring his first beers by hand back in 2006, when he founded 961 in his kitchen. "I'd never been to a brewery in my life," he says. "No one was a brewmaster in Lebanon."
Several Melbourne bars are already pouring Hawkers, including St Kilda's Local Taphouse, Newport's Junction Beer Hall, the CBD's Papa Goose and Footscray's Station Hotel.
Once fully-established in Victoria, Abboud and Hajjar plan to sell their beer nationally.
Hawkers Beer, 167 Henty St, Reservoir, Vic, (03) 9462 0650, open Monday-Friday 9am-5pm.
Written by Nick Connellan