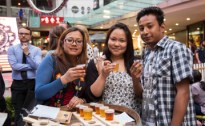 Sydney's largest craft beer festival, Sydney Craft Beer Week has announced its 2015 dates, so make sure you keep free Saturday 17 October-Sunday 25 October.
"Sydney Craft Beer Week is what Sydney is all about; incredibly fun events backed by a quality product. And that product is beer. The ultimate unifier. Literally nothing in the world could be better than celebrating beer, by its devoted makers, in Sydney," said festival co-director Mark David.
What can you expect at a festival where the fun is as important as the hops? Last year there were more than 130 events in 60 venues, with everything from Beergustations and Block Parties to a Sydney Sausage-fest and Ladies Beer High Tea.
"Sydney Craft Beer Week has grown from a few beer-loving experts to a community-wide celebration. This year we want to out-do ourselves again. There really is something for everyone, just as long as you love the beer and you're willing to make 2015 the unofficial year of the beer," said festival co-director Joel Connolly.
Sydney venues and brewers can get involved by registering events here.
The 2015 Sydney Craft Beer Week will kick off with the return of the Opening Gala Night on 16 October.
What: Sydney Craft Beer Week
Where: More than 60 venues across Sydney
When: 17-25 October, 2015