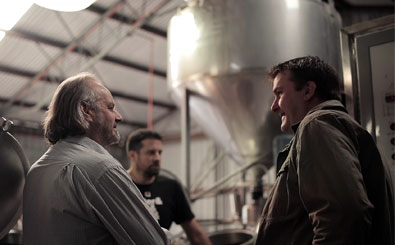 Stone & Wood is set to release on Monday (22 August) the latest instalment in its Forefathers collection, Willie Simpson's Doppelbock Lager.
The Forefathers collection pays homage to the pioneers who have paved the way towards today's burgeoning beer industry, with last year's inaugural release an English Brown Ale brewed in collaboration with industry legend Phil Sexton.
This year, Stone & Wood has collaborated with beer writer and brewer Willie Simpson.
Inspired by a German doppelbock, Simpson has created a big black lager, "brewed with rich malt flavour that hints of chocolate and dark fruits." The beer was lagered for six weeks for a smooth finish.
To celebrate the release, Willie Simpson and Stone & Wood's Brad Rogers will be hosting a number of Meet the Brewer events in Hobart, Brisbane, Adelaide and Melbourne.
For Meet the Brewer event details, video of the collaboration and stockist details, check the Stone & Wood Forefathers page tomorrow from 12pm.