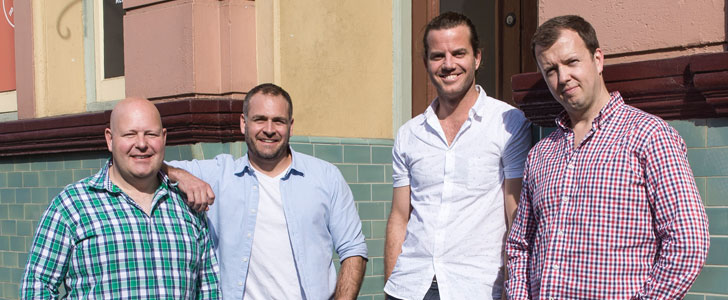 After a six-year search to find a premise to call home, Endeavour Vintage Beer Co. is set to open Endeavour Tap Rooms, a brewery, bar and restaurant in The Rocks, Sydney this November.
Located in the former King's Head Hotel, the new venue is a collaboration with hospitality gurus Ben Carroll and Hamish Watts from Applejack Hospitality, who have five restaurants throughout Sydney.
"We've been looking since we launched the company in 2010, but started seriously about two and a half years ago and found The Rocks site at the end of 2015," Endeavour co-founder Ben Kooyman told Beer & Brewer.
"We've been trading with Applejack Hospitality for three years and became good mates. I first asked Ben and Hamish their opinions on another site back in 2013 and the conversations took a natural course towards a collaboration together."
After contract brewing for six years, the team at Endeavour are suitably excited about finally having their own brewery and being able to craft rotating on-site exclusives.
"I'm really excited to the point of sleeplessness! However, I think the time is right for all stakeholders, we've reached the point of maturity that it's time to take this kind of leap," explained Kooyman.
"It'll be a bit of a step change from the current 'brew house' models currently in Sydney – expect elegant but flavoursome beers, a menu that pushes some boundaries of what pub fare usually looks like, all in an environment that is a modern contemporary evolution of the traditional offering, which is widely expected in The Rocks."
The venue will follow Endeavour's philosophy of using all-Australian, seasonally-harvested ingredients with no preservatives. The restaurant menu will offer a range of smoked produce from the land and sea, which will be served feast-style accompanied by vibrant salads and house-made sauces. Using the on-tap beer and ferments will also play a key role in the kitchen.
With many of Applejack Hospitality's venues sleek bar/restaurants, it's no surprise the Endeavour Tap Rooms' taps will also pour seasonal cocktails and a selection of NSW wines.
The venue renovation will coincide with a $15 million NSW Government initiative to renew and revitalise heritage retail tenancies in The Rocks, inspired by successful strategies in heritage retail precincts around the world, including SoHo in New York City and Le Marais in Paris.