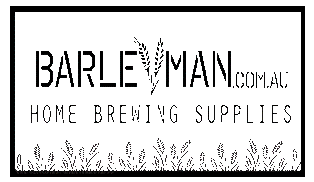 New online home brewing emporiumBarleyman has launched this week specialising in all-grain brewing essentials and bringing new and exciting ingredients to Australian brewers from around the world.
Barleyman is run by home brewer Nick Race and his wife Deb (and faithful hound Betty), who got into the business after finding some of the existing offerings falling a little short.
"I could get the ingredients I wanted, but not the service, or the service I wanted, but without the range. Barleyman is trying to bridge the gap between both," Race said.
Stocking a range of malts from Weyermann, Barrett Burston, Thomas Fawcett, Dingemans and new bespoke craft-brewing focussed Voyager Craft Malts, there's a range of UK, Continental and Australian malts for any style. Barleyman mills all malt to order, whether you brew with three vessels or brew-in-a-bag, and vacuum packs to keep the malt fresh.
Nick has also reached out to a number of new suppliers overseas, with the first off the boat being The Yeast Bay, a yeast company dedicated to providing rare yeast and bacteria strains for brewing. Previously unavailable in Australia, and prohibitively expensive to import for personal use, Barleyman is making these and other products available to home brewers for the first time.
With the craft beer market exploding with different styles and getting more people into the hobby, Barleyman is set to provide the fresh, or odd, ingredients to help them brew the best beer they can.