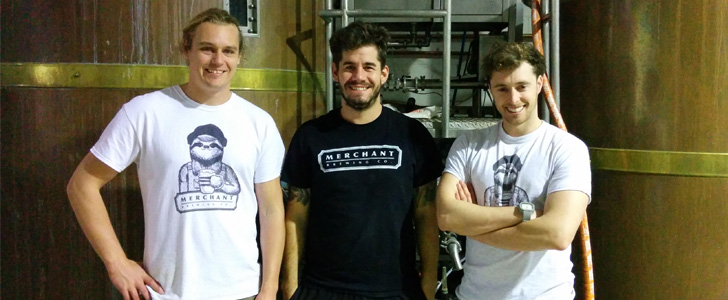 Sydney Inner West gypsy brewers, Merchant Brewing Company, will official launch tomorrow (21 August) at Gasoline Pony in Marrickville.
Best mates from high school, Dan Taylor, Glenn Garlick and Josh Allen had been home brewing separately for years before fate led them to the burgeoning craft beer hub that is Sydney's Inner West where they decided to join forces.
"We grew up in a small country town (Junee) and ended up living within a few kilometres of each other in Sydney's Inner West. Although we were home brewing separately for years, it was on 4 Merchant Street that we started creating beer together," Taylor told Beer & Brewer.
Celebrating the launch with the release of their third beer, Earl Pear, a pear and Earl Grey tea infused blonde ale, the team are excited about how far they've come since releasing their first beer five months ago.
"We started selling beer in March with the Three Toe Pale Ale – People's Choice at Vic on the Park's inaugural home brew competition. We are releasing our third beer and officially launching our brewing company this Friday at Gasoline Pony in Marrickville – come one come all, it's going to be a fun night!" said Taylor.
All three balance fulltime jobs with brewing, which they regularly do at Hopdog in Nowra and at Casey's in Penrith.
"We do Merchant stuff at night or on the weekend. We love bars that let us deliver really early or late at night!" Taylor said.
To date the team have released two beers; Three Toe American Pale Ale and Smooth Sailor Coconut Vanilla Porter, with the latest offering Earl Pear Blonde Ale to be launched tomorrow.
"Our philosophy is to have fun – we love making beer! We know we won't get rich out of this, that's not what we want, we want to make beer that people will stop and go 'ooh, that's good!'" Taylor explained.
"Once we have a name for ourselves, it will be easier to push those boundaries also. We have a lot of recipes; some that cater to the general beer drinker and other ideas that are definitely for the beer geek crowd."
The Merchant Brewing Company team will be at Gasoline Pony from 5pm tomorrow for beers and live music so get along if you can.