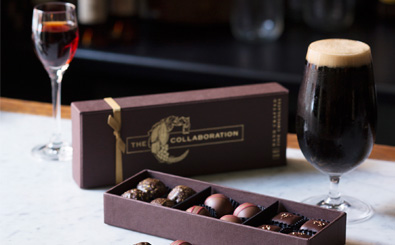 Three multi-generational Australian family-owned businesses have joined forces to unveil a special collaboration.
Haigh's Chocolates, Australia's oldest family-owned chocolate maker, Coopers, Australia's oldest family-owned brewery and Yalumba, Australia's oldest family-owned winery, introduce 'The Collaboration', a handmade box containing three specially crafted chocolates.
These chocolates include; Stout Ganache which has a rich, dark chocolate ganache centre flavoured with Coopers Stout, Antique Tawny Fig Liqueur with plump Australian dried figs steeped in Yalumba Antique Tawny and 70% Dark Chocolate Truffles crafted with a special blend of chocolate made with South American, Pacific and African cocoa beans.
"We thought it was fitting to launch this special project during our centenary year a milestone we now share with both companies, the new truffle is in fact also our centenary chocolate and this is its first release," said Haigh's Chocolates CEO Alister Haigh.
"The three chocolates were developed over a 12 month time period with our product development team working in close collaboration with key people from Coopers and Yalumba with one of the final chocolates also featuring figs from Adelaide Hills producer Willabrand and the box being made in Woodville North at Box Biz. It is a true South Australian product!"
Melanie Cooper, director of finance and corporate affairs said, "Coopers are incredibly proud to be a part of such a unique collaboration alongside two iconic Australian family-owned businesses like Haigh's and Yalumba. The result has been a true reflection of passion, dedication and commitment to quality, something all three companies undoubtedly value within their respective businesses".