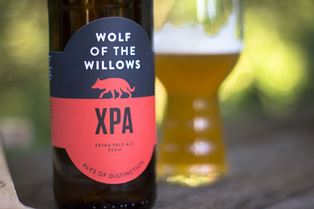 The Australian craft beer industry is welcoming a new brand to the fold,Wolf of the Willows from Melbourne.
Driven by a husband and wife duo Scott and Renae McKinnon, Wolf of the Willows is already lining up tap and fridge space in some of Melbourne's finest craft beer establishments; The Local Taphouse, Cookie Beer Hall,Slow Beer andCarwyn Cellars to name a few.
Wolf of the Willows aims to produce beers that make people pause for a moment, with the ales designed to play within style guidelines, yet stray a little from the norm. To achieve this, Scott selected quality raw ingredients, some of which he personally grows and produces. The goal is to show people that craft beer is a hugely diverse product that can complement and enhance a plethora of dishes.
First cab off the rank from Wolf of the Willows is an XPA (Extra Pale Ale). This west coast American style ale is extra pale in colour with extra hop aroma and flavour. Passionfruit, citrus and tropical fruits are supported by a subtle, biscuity malt and a soft, round bitterness. Easy drinking yet satisfying for the hop lover.
Wolf of the Willows brewed their first release XPA at Cavalier Brewing. The plan is to release two more ales to the core range, with the aim of their very own stainless in the not so distant future.
Scott's love of brewing started when helping his Dad make homemade ginger beer on the family property in rural Victoria, while Renae is the sales and marketing engine.
Paying homage to great beers born before them, the Wolf of the Willows name comes from a story about a Roman naturalist who first identified the hop vine. The hop was described as wild and untamed, twining and choking the willows, taking them down like a wolf to the flock. They were named Lupus Salictarius, Latin for Wolf of the Willows.