A new brewery has been founded in Melbourne called Fall & Rise.
Founded by Greek pair Petros Gyftopoulos and Yiannis Psimoulis, the brewery has launched a hoppy Kolsch and an Irish stout, contract brewed with Geelong's Cockie's Beer.
Gyftopoulos, who has been an engineer for 10 years, emigrated to Australia seven years ago and began homebrewing five years ago. He met Psimoulis, a professional brewer who was still based in Greece at the time, at an event in Sydney for Greek newcomers.
"We had a bit of a chat and he gave me a few tips and recipes to try to challenge me a bit more," Gyftopoulos tells Beer & Brewer. "And after a while and many, many hours of conversation, we discussed the possibility of him coming to Australia to open up a brewing company and see how it goes.
"Use the experience he has as a professional brewer – he was working for five years in the biggest craft brewery in Greece – and me using my experience in the operations, chemical engineering and then maybe get a nice product out there."
The first beer, a hoppy Kolsch was launched in time for Christmas.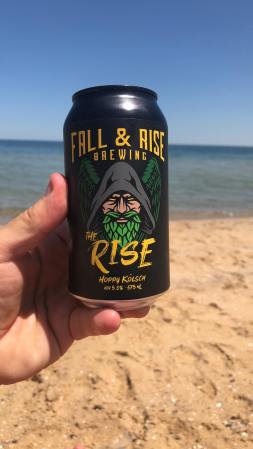 "We did a classic recipe with the twist of dry hopping finish which gave it a very nice pineapple aroma at the start and a light malty finish at the end," adds Gyftopoulos. "The first one we sold out in a three weeks."
They made a second batch and have since brewed an Irish stout for St Patrick's Day. The brewery has also now found a designer to create labels for the cans.
"It's been quite a challenging beginning, but every beginning has its challenges," continues Gyftopoulos. "We've learned from them along the way, but other breweries have helped us. That's what I love about this business. Most people support each other."
The brewery has a few more beers planned, including a kettle sour, a red IPA, a black IPA and a single hop, single malt IPA.
The aim is to open their own premises before the end of the year, but at present, they are looking to establish themselves in the marketplace and find the right location.
"I was looking at Melbourne's northern suburbs, but I'm not sure," says Gyftopoulos. "The traffic is not what I'm expecting. Anything more than 5km from the CBD is a bit of a difficult one.
"As a big fan of red and black IPA we'll probably do one of those before the end of the year, and hopefully by then we'll have enough confidence and we'll decide where we want our premises to be. We'll rent a small place and get a tap room and probably a 10-15 hL brewery and run our own recipes."
Gyftopoulos describes the craft beer movement in Greece as about "four years behind the Australian market". The number of craft breweries there has grown from two or three to around 70 within the past two years.
"It's growing fast and because of the proximity with Germany and the rest of the big schools there, it is very easy for people to go and get proper training. Yiannis did his education through Germany," says Gyftopoulos.