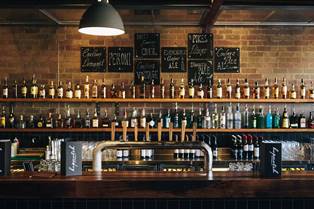 Hopscotch Bar
Hopscotch Bar, an exciting new venue with a strong craft beer and Scotch focus, has opened in Braddon, Canberra.
Swinging open its doors on 11 August, the venue has seen a steady stream of customers reaching its capacity of 300 people at least four times in the last two weeks.
Head chef Nick Parkinson and beer and bar manager Brian Smith are the brains behind Hopscotch. Parkinson has worked in some of the UK's top restaurants and previously owned The Elk and Pea in Canberra, while Smith hasworked at CUB for the past 10 years.
"We have been looking for the right site to open up on for the lastthree years, and when 5 Lonsdale Street came up we signed the lease the same day!" said Smith.
"We currently have four taps that no other venue in Canberra has, namely; Pikes Sparkling Ale, Illawarra Brewing Company Pale Ale, Endeavour Amber Ale and Coopers Vintage. We chose not to display any beer company fonts/tap handles but rather have wooden tap handles. We have found that our customers more often ask us what we recommend and are more willing to try something new instead of seeing their old faithful logo there and ordering their usual."
Hopscotch also has an impressive selection of bottled beers including; Stone & Wood, Balmain Brewing, White Rabbit, Crabbie's, Little Creatures, Hawthorn Brewing Company, 4 Pines and Sierra Nevada.
"Our food is one of our points of difference. We describe our food as 'BBQs of the world' – all our meats are cooked on an Argentine wood-fired grill imported from Northern California. It is designed to cook mouth-watering meats over red-hot coals, the grill uses a mixture of iron bark and red gum wood to impart a light smoked flavour to the meals," said Smith.
"We have also installed a BBQ pit in our outdoor beer garden, where we intend to roast full animals on each weekend and serve roast pig and lamb rolls with a few gourmet touches – such as house made aioli and coleslaw."
Hopscotch Bar is located on 5 Lonsdale Street, Braddon, ACT.