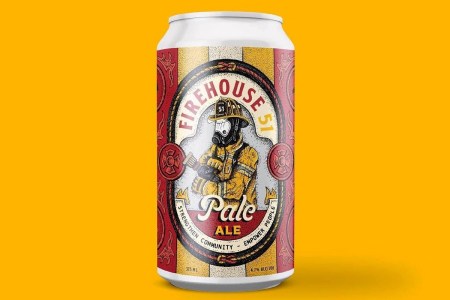 Officially launching today, new Australian brewing company Firehouse 51 will have an ongoing focus on supporting emergency services personnel, their families and other community initiatives
Launched by former member of the Victorian Police and current firefighter Haz Chinniah, Firehouse 51 will donate proceeds from the sale of their beers to similarly aligned charities for each batch brewed. From batch one of their newly released core range Pale Ale, funds will go to Fortem Australia who support the mental health and wellbeing of first responders and their families. From the upcoming release of batch two donations will be made to Operation Soul Surf – a surf therapy program that supports first responders and military veterans who suffer from PTSD, mental health issues and physical disabilities.
Haz (pictured below) said to Beer & Brewer he's juggling the Firehouse 51 "passion project", that earned him the inaugural Brew Rocket Grant, with his fulltime role as a firefighter alongside being a new parent. He said he won't be drawing an income from the venture but rather wants it empowered as much as possible so it can "stick it out for the long-term" when it comes to supporting causes in need.
"There aren't many beers that matter," Haz told us, who aside from working as a firefighter has moonlighted at the likes of Frankston Brewhouse and TWØBAYS.
"People do a lot of things with charities and they can at times just be a one off. Like take the bushfires in Mallacoota in 2019 as an example. The people there were big news for a while but then attention just tapers off. The problem though is the fact some people in Mallacoota are still without a home.
"The biggest thing about us is that once social media stops talking about things, that once issues have become uncool, we're still there talking about them and directly supporting them.
"I see our beers being kind of like messages in a bottle – or in a can in our instance – that just keep on popping up and keep on talking about really important issues.
"We're a small company, and to begin with we're not going to be able to donate massive amounts financially. But the biggest thing we're bringing right now is awareness (through the causes we're supporting)."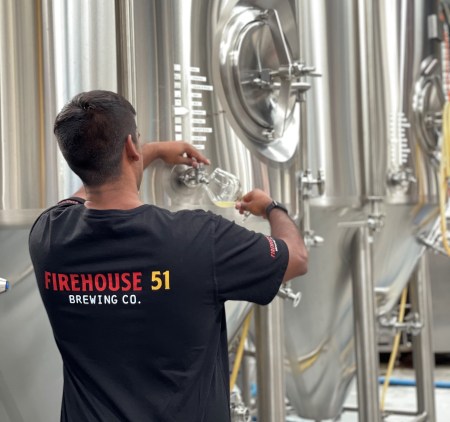 The ultimate plan for Firehouse 51 is to snowball enough that a bricks and mortar venture is possible – where they can not only brew their own beers but provide a space for, among others, emergency services personnel and provide employment to the likes of first responders who, for a multitude of potential reasons, can no longer work in their chosen field.
Aside from the Firehouse 51 name being somewhat inspired by the firefighter and paramedic-focused American TV show Chicago Fire, a lot of the inspiration for what Haz is trying to achieve comes from visits to the All-American Brew Works veteran-owned and operated craft brewery in California.
"I sat there one day and watched a guy come in and you could tell he was a veteran and that the bartender serving him was a veteran too," Haz said.
"And there was just this mutual respect and understanding going on between them. The guy had his couple of drinks and his debrief and left. It felt so good to see someone like that have a place to go where he's understood and feels amongst his people. He got to leave having felt someone cared and listened.
"We need something like that here – a place for emergency service workers and ex-military or frontline workers to all have a place to debrief."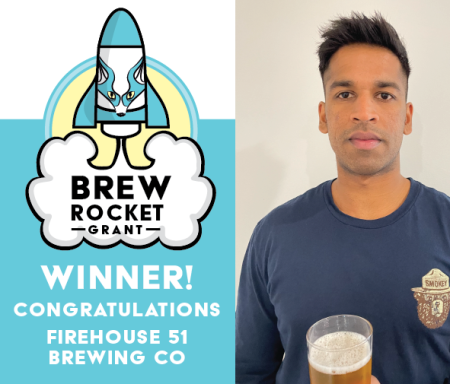 Taking off with Brew Rocket
In June last year craft beer design agency Craft Instinct, along with the help from some industry heavyweights, launched the Brew Rocket Grant to provide a launchpad via the likes of brand design and mentorship so a new, social enterprise-focused brewing brand could to take off from.
One suspects that Firehouse 51 would have had immediate impact without the grant due to its unique alignment with the emergency services sector and that industry being known for rallying around good causes. But as the inaugural winner of the grant Haz is testament to the initiative having so far achieved many of the goals it set out to.
While he said he would have whole heartedly pressed on with his dream of establishing Firehouse 51 without the grant, he added "Craft Instinct made the dream come true a whole lot sooner and better than it otherwise would have".
"I always tell (Craft Instinct founder) Jessie (Jungalwalla) 'I don't think I'd be here (so soon) without your grant'… in terms of design, brand foundation and being able to hit the ground running," Haz said.
"It would have taken me two years I reckon to get off the ground but it's been six months.
"I didn't expect it to hit the ground running so fast or the uptake of sales to be so quick. I hired a mate's cool room to hold stock expecting it to be two months or more – we've pretty much lasted a week and we're basically sold out."
Sales have been so good that Haz has even had to squirrel away a few cases of the Pale Ale just so there's something for guests to drink when the official launch party kicks off tonight (March 17) at Burnley Brewing in Richmond in Victoria where the beer was contract brewed.
He had planned to have 10 slabs on the bar but that number is down to "about four after a few new causes came to light".
"(A) guy was running a charity thing and asked if they could raffle some of the beers off. I couldn't say no to that… The beers are for charity after all."
Head to the Firehouse 51 website here where Haz hopes, if he can hold on to some stock that is, to have an online shop up soon.