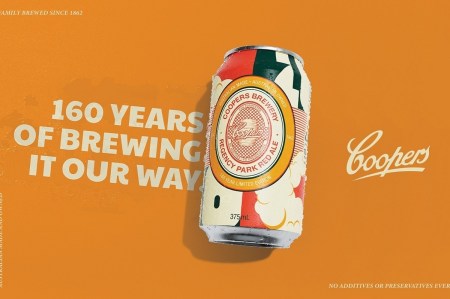 To celebrate its 160th year Coopers is releasing the limited edition Regency Park Red Ale which uses drum-roasted caramel malts and the brewery's traditional ale brewing techniques.
Referencing the brewery's Regency Park location, Coopers said the new red ale offers a twist on the classic style's Irish origins.
"The use of drum-roasted caramel malts creates a rich red hue, while Coopers' signature top fermentation and natural conditioning contributes to the full flavour and the cloudy appearance from the fine yeast sediment," Coopers' managing director and chief brewer Dr Tim Cooper said.
"A selection of all-Australian hops, including Eclipse and Melba, delivers a delicious hop-forward aroma. Drinkers can expect flavour notes of stone fruit, grapefruit, mint, and zesty orange peel."
Coopers Regency Park Red Ale will be available in kegs and 375ml can format from late March.
It's the latest addition to the 1862-founded brewery's growing portfolio of craft style beers and follows the limited-edition Australian IPA (released in 2021) and Hazy IPA (released in 2020). Regency Park Red Ale has an ABV of 5.5% and a bitterness level of 40 IBU.
This is an edited version of a media release distributed by Coopers.