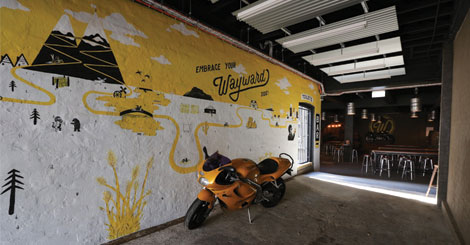 After a four year search for the perfect location, Wayward Brewing Co founder Peter Philip and head brewer Shaun Blissett (ex-Illawarra Brewing Co) are 'embracing their wayward side' at their new brewery in Camperdown.
The former gypsy brewers are having trial openings on weekends this month with limited beer selection and hours, with the bar fully up and running from the first weekend in October.
"At Wayward we're all about embracing our wayward side and enjoying great beers with good friends, so the brewery cellar door has been decked out to reflect our travels around the world and our craft beer journey," Philip told Beer & Brewer.
"That means that we're going to have 12 taps of Wayward and guest beers as well as special one-off beers only available at the brewery. Our catchcry is 'Carpe Bierum' – 'Seize The Beer!'"
The brewery will welcome a new bottling line in November so bottled product will be available for sale as well as growlers.
"As gypsy brewers we've been limited in our capacity to do one-off beers but now we can brew whatever takes our fancy on the day," Philip said.
"We will be expanding our core range to include some of our seasonal favourites like Sourpuss and Chockywocky as well as a few new recipes we have up our sleeve. We will also have an active collaboration programme, which will only be available on the bar at the brewery."
The site of the 150 person capacity brewery bar has an interesting history as an old winery, with three of the brewery bar's rooms in converted wine fermenters complete with red wine soaked wax-lined concrete walls. "Overall the theme could be described as 'take the path less travelled' with lots of references to our travels around the world and our craft beer references. We've embraced the industrial history by re-cycling, up-cycling and repurposing all of the furniture and fixtures," said Philip.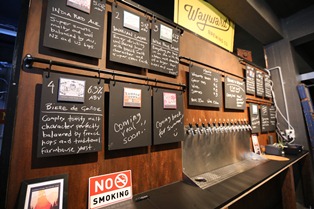 In a nod to its history as a winery, the bar will sell red and white wine and food will also be available.
"We have done a deal with a fantastic little pizzeria around the corner that will mean that people can just order pizza at the bar and we will get it delivered to their table. On weekends we'll have food trucks and we've lined up a great selection," said Philip.
The brewery is located at 1 Gehrig Lane, which straddles the border between Annandale and Camperdown. Wayward growlers will arrive early October but the brewery will refill other growlers before then.
Wayward's grand opening will be held on 24 October during Sydney Craft Beer Week, when the brewery will host an Oktoberfest party with German food, Oom-Pah-Pah music and a full menu of Wayward beers.