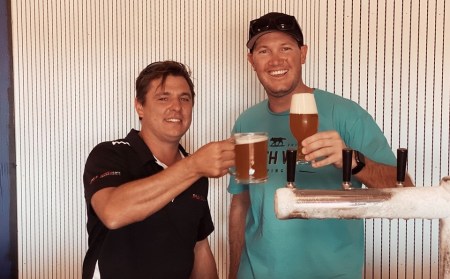 North West Brewing Company is set to open in Karratha in the far northwest of Western Australia.
The brewery, which received a $185,000 Regional Economic Development grant from the WA government, has developed a pub-style microbrewery.
The grant has allowed co-founders Dan Scott and Jack Heales to accelerate their business plan by at least a year and has allowed them to install solar panels and a canning line. The brewery is also aiming to use native bush fruits from the region.
"I've been brewing beer for a while and dreamed of opening a small brewery," Scott told Beer & Brewer. "We're getting close to opening now – just have to cut through some red tape and finalise everything."
The brewery itself is now installed – the chiller was bought second hand from Melbourne's Burnley Brewery and the rest of the kit is a new K10 brewery from Spark. Rather than a traditional three-vessel system, this only has two, with mash going from the boil kettle up to a lauter tun and then drained by gravity back into the kettle.
It took three weeks to install, but as soon as it was ready, Scott got to work on it, brewing 5,000 litres in a matter of days.
"It's a new system. There aren't a lot of people around who know how to use it. I wanted to brew on this thing. Once it was commissioned, I got to it. I just kept going, cleaned it and kept going again, so I could learn the system inside and out, and iron our any issues.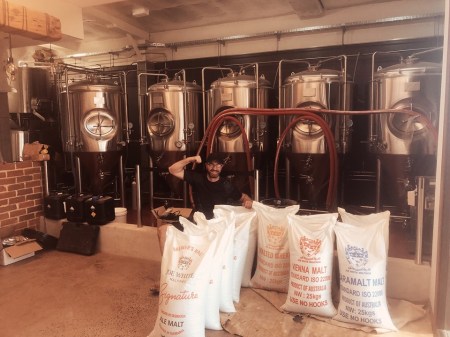 "The first brew, I started at 10 and I was still there at 2am. The next day I brewed from 9:30 to 8pm and by the fifth brew, I started at 9:30 and finished by 5:30."
Karratha is a port town in the far north of Western Australia, which makes it more expensive to set up a brewery. Apart from Whalebone Brewing in Exmouth and Matso's in Broome, there aren't many craft breweries here, and so Scott's recipes have been catered for the local people.
"I've gone for styles that are sessionable," he continues. "People will drink it and they'll know it's craft beer, they'll know it's fresh craft beer. I've decided to make some simple beers that aren't going to wreck your palate if you're not used to it. I don't have 100 breweries around me so we don't need to be outlandish or try to find a niche.
"I want to introduce different styles -fruitier and with higher ABVs… but I won't do it straight away. I can brew Kolsch-style ale, IPA that don't attack your palate too much, clean and crisp lager. All my beers sit between 3.5% and 5.4% ABV."
"Dan and his team have worked hard since 2009 to get to this point and the entire Karratha community will be cheering them on as we approach an opening date," says Alannah MacTiernan, WA regional development minister. "The brewery will create new local jobs, and has the potential to scale up and support the Pilbara tourism industry over time.
"North West Brewing's project fits perfectly with our government's focus of diversifying the Pilbara economy, particularly as it is a local business that is not directly affiliated with the resources sector. The company's focus on using Pilbara native herbs and ingredients, with a view to cultivation opportunities in the years to come, was another reason for our enthusiastic support."