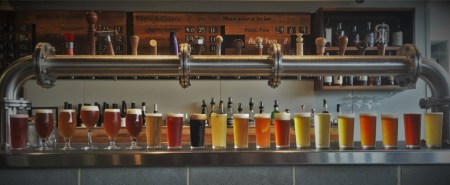 Breweries across Australia have been launching new beers, whether limited releases or celebratory brews.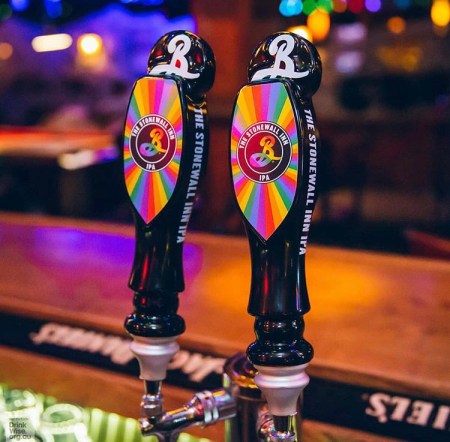 Brooklyn's Stonewall IPA lands in Australia
In the lead-up to Sydney Mardi Gras, Brooklyn Brewery's Stonewall IPA has arrived in Australia for the first time.
Brewed in collaboration with The Stonewall Inn in New York City to celebrate the The Stonewall's rich history as a beacon for the global LGBQTI+ Pride movement, and to support the continuing work of The Stonewall Inn Gives Back Initiative.
The beer has a 4.8% ABV and features Citra hops.
The Stonewall IPA will be available nationally in both 355ml cans and on tap from 10 February. 30 cents from every glass and can sold in Australia will be donated back to the Stonewall Gives Back Initiative as well as chosen local charity Bobby Goldsmith Foundation, Australia's oldest community-based HIV organisation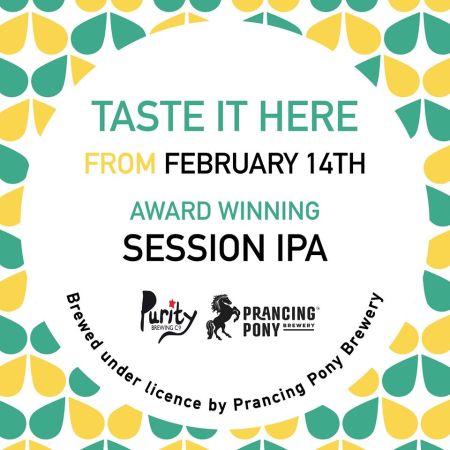 Prancing Pony unveils Purity beers
Prancing Pony has sent out the first batches of the beers brewed with the UK's Purity brewery, with whom it has built a long-distance relationship.
Alongside the brewery itself, 14 venues are pouring Purity Session Ale for the first time. Cans will be available shortly as well.
The brewery has also put its XPA and Zeppelin NEIPA into cans, growing the brewery's canned range to six core products.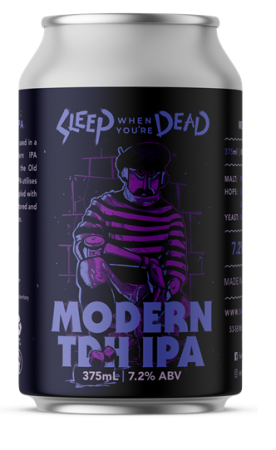 Ballistic Beer SWYD Modern IPA
Ballistic's Sleep When You're Dead series has a new addition in the form of Modern IPA. The beer has been triple dry hopped with classic US hops – Citra, Mosaic, Vic Secret, Chinook and Magnum. The hop bill is the most that the brewery has ever used in a beer.
Tasting notes include "juicy but dank, light but punchy". It has a 7.2% ABV.
The beer has been packaged and is made to be drunk fresh (within eight weeks). By 4 April, it will be removed from sale. It is available in kegs and cans.
Two new beers from Wayward
Wayward has released two new beers for February. The first is Mango Mosaic Magic Dry Hopped Mango Sour, which is available in cans. A dry hopped sour, the brew was split. The first half was soured and received a truckload of mango; the second was fermented clean and dry hopped with Mosaic.
A collaboration beer has been brewed with Bad Shepherd Brewing Co called Lumberjack IPA. A blend of Canadian Gambrinus malts "produces subtle bready and sweet flavours". These are paired with 'Lumberjack' hops and an addition of spruce tips for "piney aromatic notes.
4 Pines brews Dingo Pup
Off the back of 4 Pines' launch in the US last year, the brewery has partnered with Golden Road Brewing to create a special release.
Brewed on the same day in both Sydney and Los Angeles using the same recipe, Dingo Pup is a trans-Pacific pale ale that has been hopped with Australian Galaxy and American El Dorado hops.
The beer has a 5% ABV and is described as a "hazy little number [that] offers juicy, candy-like watermelon and bubblegum characteristics".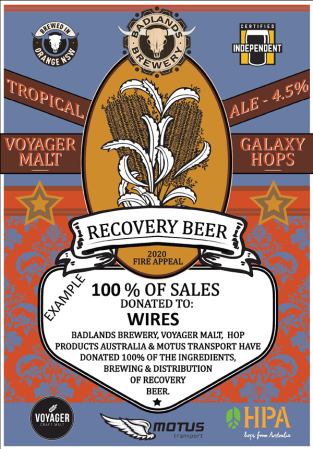 Badlands brews Recovery Beer
Badlands Brewery in Orange has brewed Recovery Beer, a one-off batch of tropical ale. It has a 4.5% ABV and is described as "soft, fruity and sessionable".
The beer, which the brewery is giving away for free, has been made possible by Voyager Malt and Hop Products Australia, who donated all the ingredients for the beer.
Pubs and bars have signed up to receive Recovery Beer for free, having chosen their own charity from the approved Bushfire Charities list. They have nominated the percentage of proceeds to go to that charity.  It has to be more than 65%, mostly venues have opted for 100%.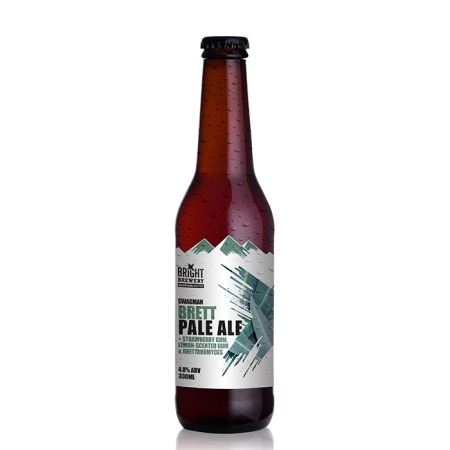 Bright Brewery's Swagman Brett Pale Ale
The latest small-batch beer from Bright has been brewed with native Australian Strawberry Gum and Lemon-Scented Gum.
In addition, it uses 100% Brettanomyces yeast to create a "crisp, dry flavour".
It is available on tap and in 330ml bottles.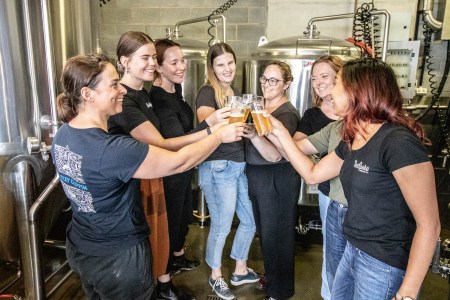 BentSpoke brews beer to celebrate International Womens Day
The women of BentSpoke are brewing a beer to celebrate and highlight the contribution of women in the industries in which they operate.
Named Marion, after Marion Mahony Griffin – the architect who helped to shape Canberra – the beer "celebrates the lesser known contributions of women" says Tracy Margrain, co-owner and brewery.
The beer is an as yet unrevealed style and features The Pink Boots Society's Hop Blend. It will launch at the brewpub on Sunday 8 March.