MEDIA RELEASE: A new Australian beer has launched and $2 from every case sold will be donated to the charity GIVIT to help raise much needed funds and equipment for those living in drought-affected communities.
Brewed in Goulburn, Southern NSW by award-wining Tribe Breweries, Hughie is a light, refreshing lager made from 100 per cent Australian-grown hops and malt and makes a great, easy-drinking thirst-quencher at the end of a long hot day.
"The name Hughie derives from the term 'Send it down Hughie' which was a common Aussie bushman's cry for rain at the turn of the 20th Century, so it's great to see that the money raised from the sale of Hughie can go towards helping those living in drought-affected communities today," said Billy Ryan, category manager, craft beer, Dan Murphy's.
Since late 2018, GIVIT has spent more than $600,000 in donated relief funds to co-ordinate over 140,000 items purchased in local communities to help 12,000 people across regional NSW affected by drought conditions.
"Being able to replace a water tank, mend a fence or purchase a week's supply of groceries at the local store can make a significant positive contribution to a family dealing with drought," said Scott Barrett, GIVIT's NSW Manager.
He said last year was Australia's driest on record and although some areas have received rainfall this year, it will take much more than a few showers to make any significant difference.
"Drought affects everyone in regional communities; farmers, their businesses and their families. It affects lives, live-stock and livelihoods. Whole communities are impacted: local businesses dry-up because of reduced spending and the effects run deep across generations, economically, socially and emotionally. Many of these communities are now dealing with double-whammy of drought followed by bushfires. It doesn't get any tougher than that."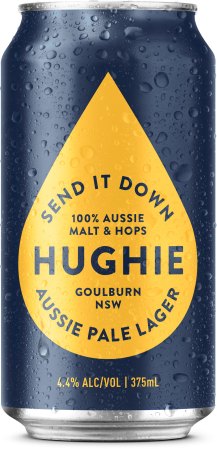 With its strong agricultural roots in wool production, Hughie's birth-place and home in Goulburn, has also seen the far-reaching impact of drought.
"Drought really affected our local agricultural community over the last few years. It's fantastic to be producing a drop of great-tasting Goulburn beer that is 100 per cent Australian and gives back to the community it serves," said Anton Szpitalak, Tribe Breweries, Goulburn.
Hughie is available from Dan Murphy's and BWS. Head to Hughie's website for more information.
Contact Beer & Brewer by clicking here to share your news and views.