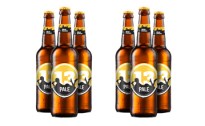 Established by three Adelaide entrepreneurs, Jared Birbeck, Peter Lynn and Antony Tropeano, Malt Fiction is a brewing company aspiring to change the way beer drinkers think.
The name 'Malt Fiction' apparently originates from the idea of creating a beer that could take you to utopia. Malt, meaning germinated grain, is used in brewing and distilling, and fiction refers to the act of inventing or imagining, put them both together, and Malt Fiction was born.
Hand-in-hand with the creation of Malt Fiction comes the introduction of their first craft beer, '13', an ale officially launching Friday, 13 March.
"We wanted to craft something that represented our passion for beer, that could take our drinker's taste buds to a euphoric place," said Malt Fiction co-owner Antony Tropeano.
Jared Birbeck, founder of Birbeck's Brewing, has a passion for good, quality beer, and after launching
Birbeck's Brewing in late 2012, Jared immediately enjoyed success with his own craft brews with his first beer, Four Brothers, finishing in 13th place in the 2012 Hottest 100 Craft Beers.
"13 is pale and inviting. Showcasing spicy and melon characteristics from the use of Australian summer hops, 13 has a clean, crisp finish from Australian wheat," said Birbeck. "Backed with a light grainy malt flavour brewed from all Australian malt, 13 leaves drinkers with a light bitterness and fruity characteristics."
Malt Fiction's 13 will launch with a bang; being stocked in more than 30 reputable restaurants, bars and hotels across Adelaide.
"We have already received an overwhelming amount of support for 13," said Malt Fiction co-owner
Peter Lynn. "And why call it 13? Historically Jared's family were bakers, so we felt it a fitting tribute to the baker's dozen, as well as the number 13 being considered lucky for some!"
At 4.5% ABV, 13 is a sessionable pale ale and can be purchased online. For information, click here.