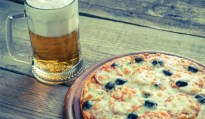 Gourmet pizza company, Pizza Capers, has reached out to craft beer brewers and enthusiasts to recommend their perfect craft beer pairing with nine of their pizzas.
The combinations include the likes of; La Sirène Saison and The Prawn Pizza, The Australian Brewery's Pacific Pale Ale and the Margherita, while 4 Pines Stout is teamed with the BBQ Bonanza.
Operations manager for Ekim Brewing Co. Cassie Potts said it's been encouraging having a well-recognised brand supporting small Australian breweries, through their recognition of combining the right craft beer with a gourmet pizza.
While there is no doubt the craft beer industry is gaining momentum in the mainstream beer industry with an annual 10 per cent growth forecasted, majority of beer drinkers lack exposure to real craft beer.
Himmel Hünd brewer and owner Annabel Meagher said the bigger beer companies have the budget to pay for prominent billboards and clever ads, which means they are selling a whole image and an experience rather than the beer on its own.
"Craft breweries generally don't have the budget to pay for such elaborate advertising and rely on good quality beer, unique flavours and of course word of mouth amongst the beer drinking community," she said.
Click on the image below to check out all nine craft beer and pizza matches.