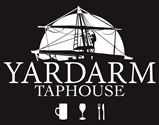 26 November 2013
Ex Snowy Mountains Brewery (NSW) founder Kevin O'Neill, along with partner Julie Sawyer, have purchased the business on the beachfront of Manly's North Steyne, previously a Murray's (NSW) Brewbar and more recently known as Rubber Duckie Taphouse.
The new bar will be called the Yardarm Taphouse, and is opening its doors this Thursday 28th November for a free launch party to the public as the launch of the new management, new look, new beer range and cuisine.
Yardarm Taphouse Opening Night – This Thursday 28th

Yardarm owners Kevin O'Neil and Julie Sawyer will officially open the doors to their new establishment Yardarm Taphouseat 5pm on the 28th November.
On the night, customers will enjoy a free tasting of the Taphouse's menu of authentic Californian and traditional Australian cuisine, as well as live entertainment.
Yardarm, the name, is a nautical term, used in the context of,as Julie explains, "sun over the yardarm", which means "time to get your drink on", and depending on where you are, yardarm is from 11 – 11:30 am, which is when the Yardarm will be open 7 days – The bar will be open from 11 am and the restaurant from 11:30 am daily.
The Yardarm Taphouse will be launched with the help of Australia's largest creative reuse centre, Reverse Garbage.
"The opening night of Yardarm Taphouse will of course be exciting because of many new things: new owners, new staff and management, events and entertainment and a delicious Californian-Australian menu," said new owner Julie, "but we are especially excited as we have been working closely with Reverse Garbage to embrace reuse and have commissioned them to strip out the site's old fit-outs and decorations, and replace them with reuse materials from their Marrickville site."
"Reuse and working with Reverse Garbage's RG Creative team makes sense as we are supporting a much-needed Australian charity, helping our environment by utilising materials otherwise heading to landfill and innovatively changing the look and feel of the space while making savings on our budget. We know customers will be pleasantly surprised by what they see and will fall in love with the place immediately."
Reverse Garbage CEO Narelle Mantle is proud of the organisation's involvement in the taphouse's refurbishment to promote reuse: "There is a rise in the number of restaurants, cafes and pubs embracing reuse, but few are actually going beyond wooden pallet tables and upcycled milk crates."
"Reuse can completely change the look and feel of any space and we've innovatively reused a range of materials Yardarm customers are going to see and think 'wow, that's so clever and looks amazing!'. We've reused some gorgeous vintage trolleys in the dining and bar areas, beautiful old tools such as vices to enhance signage, old gold picture frames and much more – all of which will be revealed at this Thursday's opening night!".
Yardarm Taphouse
49/53 North Steyne
Manly NSW 2095
Tel: (02) 9977 0999
Contact
Mark Bond, Reverse Garbage Marketing Manager on 02 9569 3132.
Reverse Garbage | 8/142 Addison Road, Marrickville NSW 2204 | 02 9569 3132 | www.reversegarbage.org.au
About Reverse Garbage
Reverse Garbage was established in 1974 by a group of educators determined to help the environment by diverting industrial discards from landfill and by reusing materials in their classrooms.
Each year Reverse Garbage collects tonnes of resources including reusable off-cuts, over-runs, art & craft materials, stage props, knick-knacks, furniture and other items from hundreds of supporting commercial and industrial businesses, as well as through the generosity of the community.
The organisation runs a number of innovative programs aimed at promoting reuse to the community including reuse education workshops for all ages.