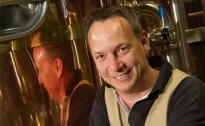 The team at Murray's Brewing are launching their first sour beer 'Pucker Up' this Valentine's Day, kicking off their new Short Supply series.
The sour pale ale will be available for one-day only this Saturday (14 Feb) on draught at Murray's Bobs Farm Brewery. There will also be live music from midday, specially matched food and a Pucker Up beer cocktail available, made with whisky, lemon juice, sugar syrup and Pucker Up beer.
Pucker Up is a 3.5% ABV sour pale ale that has been spontaneously fermented with the airborne microflora surrounding Murray's brewery at Bobs Farm. Lactobacillus has played a big part in souring the beer prior to normal fermentation with an ale yeast.
The resultant beer is very tart, yet sweet in the finish, and has the aroma and flavour of intense grapefruit with a hint of passionfruit. A great match to perfectly roasted pork belly.
If you're keen to 'pucker up' this Valentine's Day, bookings are essential so call 02 4982 6411.
Next in the Short Supply series is Skully Red IPA, Murray's first Red IPA, which will launch 21 February.