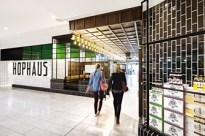 The Hophaus Bier Bar Grill in Melbourne is celebrating Cologne's Karneval, with a Kellerbier and a Kölsch from Cologne and an Altbier from Düsseldorf never seen before in Australia.
Each February, between Fat Thursday (Weiberfastnacht) and Ash Wednesday (Aschermittwoch), the good people of Cologne herald in their most cherished event, the world famous 'Kölner Karneval'.
These 'crazy days' see the city metamorphose into a wild melange of street partying, balls, drinking, dancing and dress-ups. Cologne turns into a fantasy world where the concept of 'closing time' does not exist—every bar and pub in town is not only allowed, but encouraged to keep their doors wide open for the entire week.
The exclusive beers flown in specially for the festivities include; Fruh Kölsch (4.8% ABV) a pale golden coloured ale, with a light malt flavour, Sunner Kellerbier (5.3% ABV) old, cloudy style of bier from Cologne that is an unpasteurised, unfiltered lager and Schlösser Alt (4.8% ABV) a fresh, full flavoured, slightly nutty, top fermenting medium dark style. Generally considered a 'crossover' bier the Schlösser Alt will be served for the first time in Australia on tap.
The Cologne Karneval festivities at the Hophaus will kick-off today (12 Feb) until next Wednesday (18 Feb). Revellers can enjoy speciality biers flown in for the occasion, a sumptuous Karneval food menu and a Hophaus Cologne Karneval 'Best Dressed' competition to be held on Sunday 15 February.
For more information, click here.