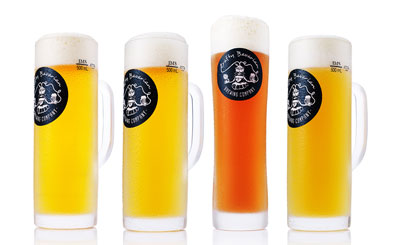 Bavarian Bier Cafés and Munich Brauhaus' have launched a month-long Bavarian Brewfest to celebrate the launch of two new beers and a cider, and pay tribute to one of Bavaria's oldest beers.
This month, the Crafty Bavarian Brewing Co. will release the new brews exclusively across 10 Bavarian Bier Cafés in Sydney, Brisbane and the Gold Coast and Munich Brauhaus in Sydney and Melbourne.
Release parties will mark the arrival of each new brew, with the first 200 guests at each party receiving an exclusive collector's glass.
The first of the releases is Good Pickin's Apple Cider (4.5 per cent ABV), a crisp cider with aromas of Granny Smith apples and floral notes, which will be launched tomorrow (8 April). This will be followed by Pretty Purrsuasion Porter (4.5 per cent ABV) on 15 April and Devil's Daughters Double IPA (6.5 per cent ABV) on 29 April. The Friday parties commence at 5pm.
The new line-up joins the Crafty Bavarian Brewing Co.'s inaugural craft mainstay beers – Blonde Moment, Munich Lager, Butcher's Bride Pale Ale and Hop Dock – which were released in January.
One of Bavaria's oldest craft beers, Hofbrau Original will join the Brewfest on 22 April, with a party to mark the 500th anniversary of the Bavarian Purity law on 23 April.